Podcast: Play in new window | Download
Subscribe: iTunes | Android | RSS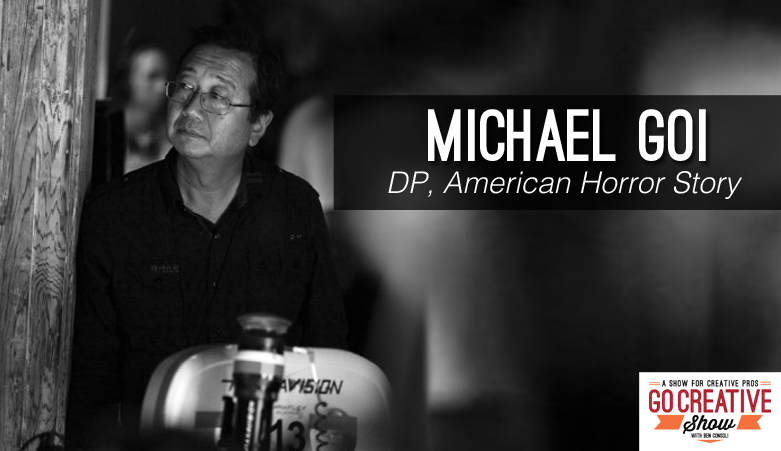 IN THIS EPISODE:
Today we speak with Michael Goi, ASC, Director of Photography for American Horror Story. Michael shares his experiences as a former ASC president, shooting Glee, The New Normal, Amerian Horror Story and directing his film Megan is Missing. Plus Matt Allard from NewsShooter.com joins us to talk about the KiniMax 6K camera, the Panasonic 4K Varicam and more.
The Go Creative Show is supported by Kessler (www.kesslercrane.com), Rule Boston Camera (www.rule.com), PremiumBeat.com.
and NewsShooter (NewsShooter.com)
Weekly Update
The PremiumBeat.com Song of the Week
Listen to this week's full track here: Stand Proud By Olive Musique
Spotlight: Michael Goi
Michael Goi, ASC is the Director of Photography for the hit TV series American Horror Story. We cover everything from his early days shooting documentaries in Chicago, his move to Los Angeles and his experiences shooting My Name Is Earl, Glee, The New Normal and more. Michael speaks candidly about his life, career, and passion for movies, dance and the arts as well as his experience as a former ASC president.
Why Michael Goi is breaking all the rules

Michaels in-camera philosophy

How he lights to support what the characters are thinking and feeling

Making the move to LA

Shooting Glee

Becoming ASC president

His early years shooting documentaries

Shooting a pilot vs. shooting a series

Why is film easier than video

And much more.
SOME LINKS MENTIONED IN THE EPISODE:
SUBSCRIBE:
SHOW SUPPORTERS:
Kessler – Innovative Tools for Filmmaking
www.kesslercrane.com
Rule Boston Camera – Buy. Rent. Create.
www.rule.com
PremiumBeat – Exclusive Royalty-Free Music and Sound
www.premiumbeat.com
NewsShooter – Making the real world look as good as cinema
NewsShooter.com
The following two tabs change content below.
A multi-talented producer and visual storyteller, Ben Consoli's credits range from director of photography, editor, director, and video producer to songwriter, composer, and former lead singer of the rock band "Violet Nine." As owner of BC Media Productions, Ben has produced award-winning commercials and brand videos for companies like Nike, Puma, Verizon, Gillette and Pillsbury. Learn more about
BC Media Productions
Latest posts by Ben Consoli (see all)