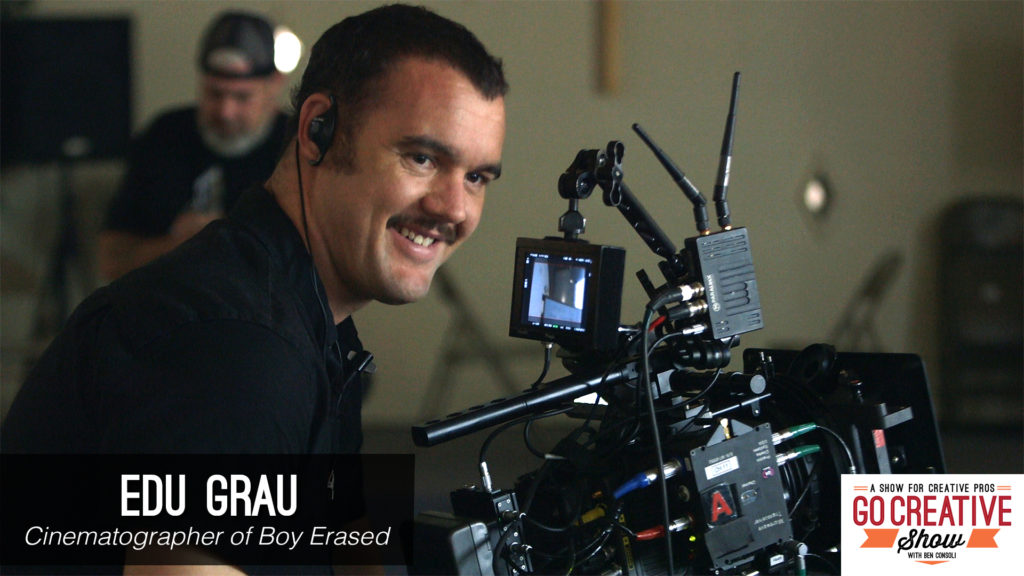 IN THIS EPISODE:
Edu Grau is the Barcelona born cinematographer who's unique vision inspired the simple and sophisticated look of Boy Erased. Edu joins Go Creative Show Host and commercial director Ben Consoli to discuss Edu's working relationship with director Joel Edgerton, creating authentic visuals to depict conversion therapy programs, his love of 16mm film and the beauty of stained glass.
The Go Creative Show is supported by
Hedge
Rule Boston Camera
PremiumBeat
Shutterstock
News Shooter

The PremiumBeat.com Song of the Week
Spotlight: Edu Grau
The cinematography of Boy Erased
Working with Joel Edgerton
Lighting with stained glass
The challenges of simple lighting
Mixing 16mm and 35mm together
Depicting the Conversion Therapy programs
The relationship between director of photographer and gaffer
Edu's work on the film A Single Man
Working with Nicole Kidman and Russell Crowe
and much more
SUBSCRIBE:
LINKS:
SHOW SUPPORTERS:
Hedge – The fastest way to backup media.
Hedge
Rule Boston Camera – Buy. Rent. Create.
www.rule.com // Rule's Event Page
PremiumBeat – Premium Royalty-Free Music and Sound
www.premiumbeat.com
Shutterstock – Stock footage and photos you'll love
www.shutterstock.com
News Shooter – Making the real world look as good as cinema
NewsShooter.com
Like this episode? Share!