Podcast: Play in new window | Download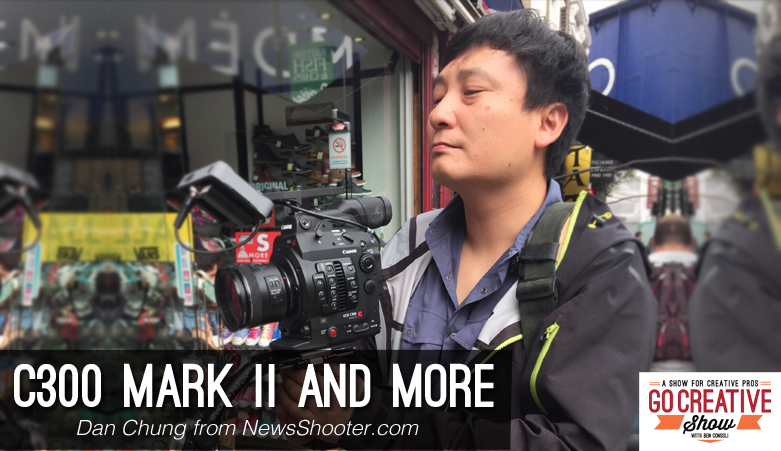 IN THIS EPISODE:
After 2 weeks using the Canon C300 Mark II, Dan Chung from NewsShooter is on the show to tell us all about it. Plus Dan's experience with the Sony A7R2. This episode is all about gear so strap in kids!
The Go Creative Show is supported by
Kessler – www.kesslercrane.com
Rule Boston Camera – www.rule.com
PremiumBeat.com
NewsShooter.com
Shutterstock

The PremiumBeat.com Song of the Week
Listen to this weeks full track: Smart Ideas by Julian Bell
Spotlight: Dan Chung
Dan Chung is a cameraman shooting mainly news and documentary. He is also editor of NewsShooter.com covering the hottest news in the production industry. Dan is one of the few people on earth to have used the Canon C300 Mark II and he's on today's show to tell us all about it. Plus Dan shares his experience with the Sony A7R2.
C300 Mark II body and form factor

Who is this camera for

How does it compare to the original C300

The Sony A7R2

Does the A7R2 compete with the A7S or FS7

The low light challenges

How auto-focus may be the next "pro" tool

and more…
SOME LINKS MENTIONED IN THE EPISODE:
SUBSCRIBE:
SHOW SUPPORTERS:
Kessler – Innovative Tools for Filmmaking
www.kesslercrane.com
Rule Boston Camera – Buy. Rent. Create.
www.rule.com
PremiumBeat – Premium Royalty-Free Music and Sound
www.premiumbeat.com
NewsShooter – Making the real world look as good as cinema
NewsShooter.com
Shutterstock – Premium Footage and Images
Shutterstock.com
Like this episode? Share!