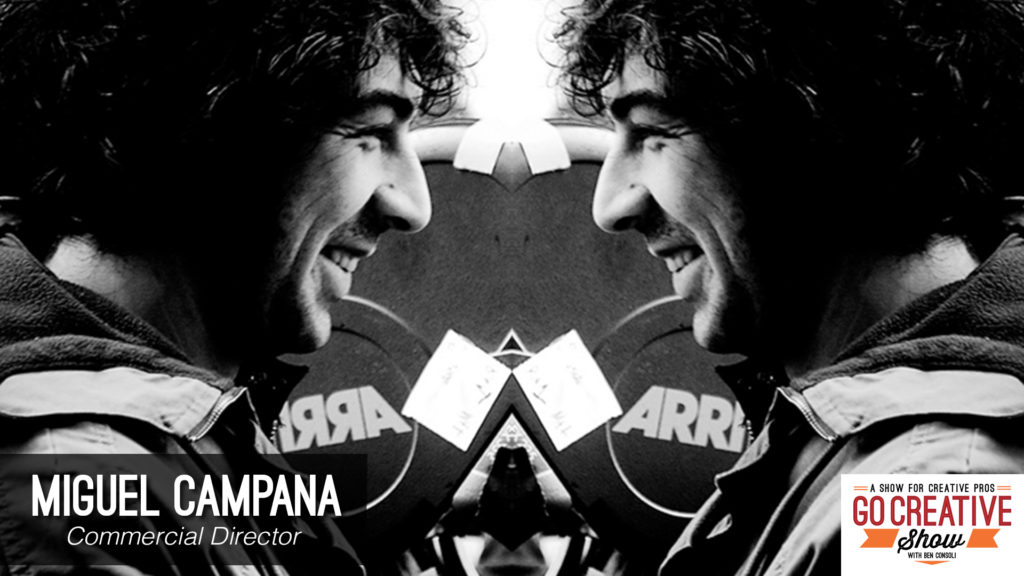 IN THIS EPISODE:
Commercial director Miguel Campaña talks advertising and becoming a better director.
Miguel Campaña is a commercial director for some of the largest brands and ad agencies in the world. He works with Landia, the top Spanish-speaking production house, in Los Angeles. Miguel joins Go Creative Show host Ben Consoli to discuss his creative process, the responsibility of advertising, tips for creating better directors treatments and the delicate relationship between director, advertising agency and client.
The Go Creative Show is supported by
Hedge
Rule Boston Camera
PremiumBeat
Shutterstock
Magnanimous Rentals

The PremiumBeat.com Song of the Week
What you will learn in this episode
What is a commercial director responsible for on set
The creative process for commercial directing
The agency / client relationship
How to find new commercial clients
When to hire a director representative or agent
What makes a controversial advertising campaign
Directing commercials vs features
Creating rough cuts in the field for editors
The responsibility of filmmaking
Finding/working with new clients
Tips for creating better director's treatment
and much more
SUBSCRIBE:
LINKS:
SHOW SUPPORTERS:
Hedge – The fastest way to backup media.
Hedge
Rule Boston Camera – Buy. Rent. Create.
www.rule.com // Rule's Event Page
PremiumBeat – Premium Royalty-Free Music and Sound
www.premiumbeat.com
Shutterstock – Stock footage and photos you'll love
www.shutterstock.com
Magnanimous Rentals – Production equipment rentals and more
MagRents.com
Like this episode? Share!