Podcast: Play in new window | Download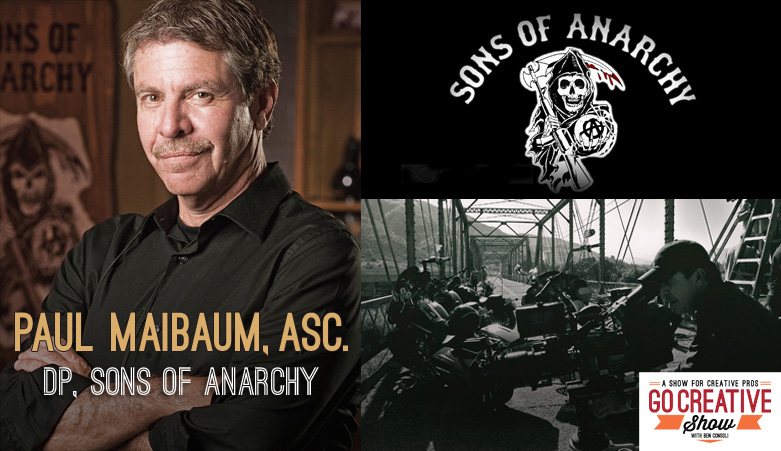 IN THIS EPISODE:
Today we speak with Paul Maibaum ASC, director of photography for the hit tv series "Sons of Anarchy" we discuss everything including, lighting techniques, paul's camera choices, the impact of 4K and more. Plus we cover all the latest industry news including the Canon C100 autofocus update and the release of Ben's first music video.
The Go Creative Show is supported by Kessler (www.kesslercrane.com), Rule Boston Camera (www.rule.com), PremiumBeat.com.
and NewsShooter (NewsShooter.com)
Weekly Update
The PremiumBeat.com Song of the Week
Listen to this week's full track here: To The Future by Max Brodie

Spotlight: Paul Maibaum, ASC
Paul Maibaum, ASC is a Director of Photography for countless TV movies and series including one of my favorite shows, the hit FX Network series "Sons of Anarchy". He is currently shooting "Baby Daddy", a comedy in its third season for ABC Family. Paul has been deeply rooted in the film industry since childhood. His father, Richard Maibum was the writer of 13 James Bond screenplays. Paul and I talk about everything including behind the scenes from Sons of Anarchy, the difference between lighting comedy and drama, the impact of 4K and how he landed such a great gig on one of today's hottest tv shows.
Shooting Sons of Anarchy

Lighting techniques: Drama Vs. Comedy

Shooting with Arri Alexa

Most challenging and rewarding moments on Sons of Anarchy

Post production and color grading workflow

The impact of 4K on the television industry

How Bing-Watching has changed TV

Growing up as the song of a famous film writer

And much more.
SOME LINKS MENTIONED IN THE EPISODE:
SUBSCRIBE:
SHOW SUPPORTERS:
Kessler – Innovative Tools for Filmmaking
www.kesslercrane.com
Rule Boston Camera – Buy. Rent. Create.
www.rule.com
PremiumBeat – Exclusive Royalty-Free Music and Sound
www.premiumbeat.com
NewsShooter – Making the real world look as good as cinema
NewsShooter.com
Hands of Time from Ben Consoli BC Media Productions on Vimeo.
Like this episode? Share!