Podcast: Play in new window | Download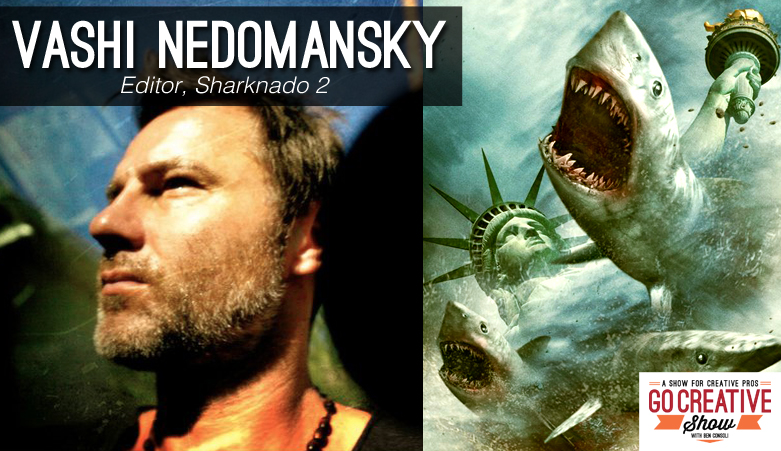 IN THIS EPISODE:
Today we speak with film editor, Vashi Nedomansky his wildly successful campy mega-hit, Sharknado 2. Plus Matt Allard from NewsShooter.com joins us to discuss all the latest industry news.
The Go Creative Show is supported by
Kessler – www.kesslercrane.com
Rule Boston Camera – www.rule.com
PremiumBeat.com
NewsShooter.com
Lynda.com
Weekly Update
The PremiumBeat.com Song of the Week
Ben's Lynda.com Podcast Playlist
Learn the Songwriting in Logic Pro Everything from the basic elements of color, methods of mixing and layering. temperature, value, contrast, and more.
Spotlight:
Vashi Nedomansky returns to Go Creative Show to share stories from his recent mega-hit Sharknado 2. We discuss his editing strategies, the special effects workflow, the intense 6-week edit schedule and all the ridiculous campy insanity that made Sharknado 2 an instant classic. Vashi also talks about his recent documentary on PTSD, his upcoming film Headlock and his hugely successful blog at VashiVisuals.com In the past few years, Vashi has become one of the go-to post production super stars in our industry and i'm so happy to have him back.
The genius of Sharknado

How to properly edit CAMP

The juicy cameos of Sharknado

Special effects workflow

FCP7 to Premiere

Shooting in the rain

Vashi's new documentary That Which I Love Destroys Me

Vashi's next film "Headlock"/span>

Why is the blog at Vashivisuals.com do damn fun to follow

and more…
SOME LINKS MENTIONED IN THE EPISODE:
SUBSCRIBE:
SHOW SUPPORTERS:
Kessler – Innovative Tools for Filmmaking
www.kesslercrane.com
Rule Boston Camera – Buy. Rent. Create.
www.rule.com
PremiumBeat – Exclusive Royalty-Free Music and Sound
www.premiumbeat.com
NewsShooter – Making the real world look as good as cinema
NewsShooter.com
Like this episode? Share!