Podcast: Play in new window | Download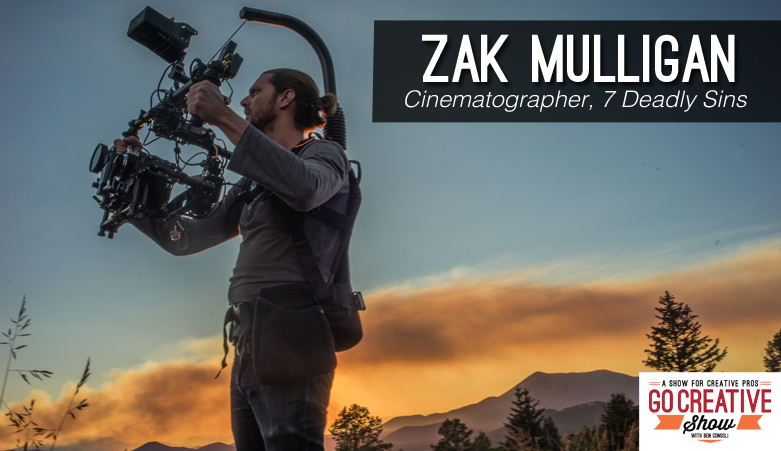 IN THIS EPISODE:
Today we speak Zak Mulligan, award winning cinematographer and director of photography for feature films, commercials, music videos and the brilliant new Morgan Spurlock documentary series, 7 Deadly Sins on Showtime. We discuss his gear and lighting package, his experiences screening films at Sundance, being nominated for an Academy Award and all the shooting and lighting techniques that make 7 Deadly Sins a visual powerhouse. Plus Matt Allard from NewsShooter.com joins us to discuss the hottest news in our production industry.
The Go Creative Show is supported by
Kessler – www.kesslercrane.com
Rule Boston Camera – www.rule.com
PremiumBeat.com
NewsShooter.com
Lynda.com
Weekly Update
The PremiumBeat.com Song of the Week
Ben's Lynda.com Podcast Playlist
Finding A Work-Life Fit. I think this is an essential course for everyone, especially the Go Creative Show audience.
Spotlight:
Zak Mulligan is an award winning cinematographer and director of photography for countless feature films, music videos, commercials and more. His latest project, the Morgan Spurlock documentary series "7 Deadly Sins" is possibly one of the most visually stunning documentary shows on tv. Zak and I discuss his Academy Award nominated film "Open Heart" and his experiences screening a film at Sundance. We also cover his vast commercial and music video career as well as Zak's advice for aspiring cinematographers. And of course we dive deep into his gear package and geek out about cameras, lighting and more.
Lighting to be dark

What does it REALLY mean to be an Academy Award nominee

A passion for documentary

How Ted and Hollis got started in comedy

Zak's experience screening a film at Sundance

Getting a film on Netflix

Why Zak loves the MOVI

Why sometimes the best lighting could be no lighting

Making boring subjects look amazing

and more…
SOME LINKS MENTIONED IN THE EPISODE:
SUBSCRIBE:
SHOW SUPPORTERS:
Kessler – Innovative Tools for Filmmaking
www.kesslercrane.com
Rule Boston Camera – Buy. Rent. Create.
www.rule.com
PremiumBeat – Exclusive Royalty-Free Music and Sound
www.premiumbeat.com
NewsShooter – Making the real world look as good as cinema
NewsShooter.com
Like this episode? Share!