Podcast: Play in new window | Download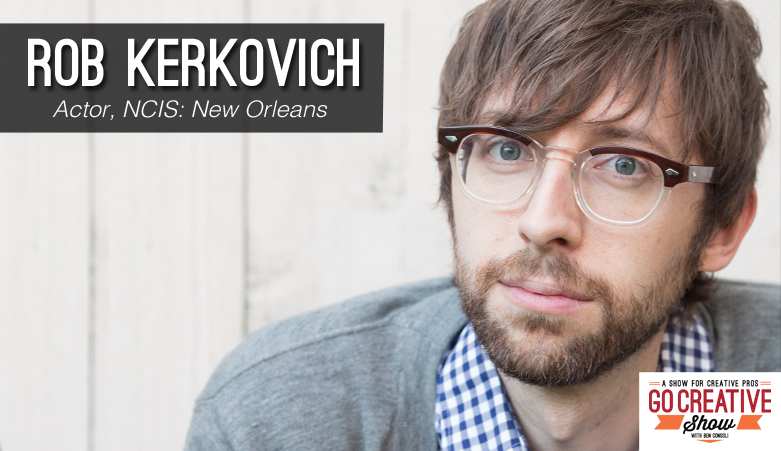 IN THIS EPISODE:
Today we invite Rob Kerkovich actor, writer who plays Sebastian from the massive CBS show NCIS: New Orleans. We discuss the creativity behind acting and how he develops his character. Rob shares his journey from college to comedy troupe to network television and more. Then Paul Antico joins us to discuss his experience with the controversial Atomos Shogun 4K recorder.
The Go Creative Show is supported by
Kessler – www.kesslercrane.com
Rule Boston Camera – www.rule.com
PremiumBeat.com
NewsShooter.com

Weekly Update – Paul Antico
Matt Allard's review of the Atamos Shogun 4K recorder.

The good, the bad, the even worse!

Can the A7S b-cam for the FS7 and F55?

Will the plastic casing hold up in the real world?

No playback… yet.

Your iPhone needs a case.. so does this.
The PremiumBeat.com Song of the Week
Listen to this weeks full track: The Cavalry by GG Riggs
Spotlight: Rob Kerkovich
Rob Kerkovich is an actor, writer and currently stars as Sebastian Lund in NCIS: New Orleans on CBS. We discuss Rob's journey from struggling actor to network star and how he develops his character Sebastian. Rob shares stories about his comedy troupe Summer of Tears and how it opened doors that led to developing projects with NBC and CBS. We also cover his latest project, Tesla and Twain which is likely on its way to being a massive success. But most importantly, he was my good friend from high school and starred in some of my most ridiculous and embarrassing home movies that should never and will never go online…
Starring in NCIS: New Orleans

Dealing with hate online

How to survive the life of a struggling actor.

Is New Orleans the new Hollywood?

Rob's comedy troupe Summer of Tears

How to turn a web series into a network smash

How "not caring so much" may land you a dream gig.

and more…
SOME LINKS MENTIONED IN THE EPISODE:
SUBSCRIBE:
SHOW SUPPORTERS:
Kessler – Innovative Tools for Filmmaking
www.kesslercrane.com
Rule Boston Camera – Buy. Rent. Create.
www.rule.com
PremiumBeat – Exclusive Royalty-Free Music and Sound
www.premiumbeat.com
NewsShooter – Making the real world look as good as cinema
NewsShooter.com
Like this episode? Share!