Podcast: Play in new window | Download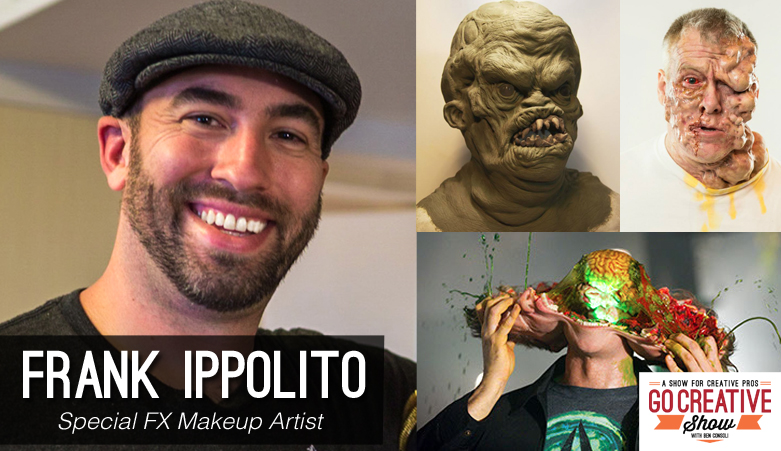 IN THIS EPISODE:
Today we discuss "Monster Makeup" with special effects makeup artist Frank Ippolito. Frank shares stories from his work on films, television shows and his production company Ghost Works LLC. Frank also shares his techniques and what inspires him to create unique movie monsters. Then Matt Allard, ACS joins us to discuss all the latest industry news stories on NewsShooter.com
The Go Creative Show is supported by
Kessler – www.kesslercrane.com
Rule Boston Camera – www.rule.com
PremiumBeat.com
NewsShooter.com

Weekly Update
The PremiumBeat.com Song of the Week
Spotlight: Frank Ippolito
Frank Ippolito is a special effects makeup artist with over a decade in the industry. Frank has built an incredible portfolio of work for film, television and more. We discuss Franks work on Pirates of the Caribbean and his two seasons as a contestant on the SyFy Channel's hit competition show "Face Off". Frank shares his techniques, his sources of inspiration and how he keeps his monsters looking fresh and unique. Frank Ippolito has been making monsters since age 10 and is here today to share his story with the Go Creative Show audience.
Pirates of the Caribbean

Hollywood is a social scene

Joining the union

Designing a vampire in a new way

the differences and similarities of fashion and special effects makeup

How does his directing experience influence his makeup career.

His experiences on FACE OFF season 1 and 5

Frank's work on Tested.com

His podcast CreatureGeeks

and more…
SOME LINKS MENTIONED IN THE EPISODE:
SUBSCRIBE:
SHOW SUPPORTERS:
Kessler – Innovative Tools for Filmmaking
www.kesslercrane.com
Rule Boston Camera – Buy. Rent. Create.
www.rule.com
PremiumBeat – Exclusive Royalty-Free Music and Sound
www.premiumbeat.com
NewsShooter – Making the real world look as good as cinema
NewsShooter.com
Like this episode? Share!