Podcast: Play in new window | Download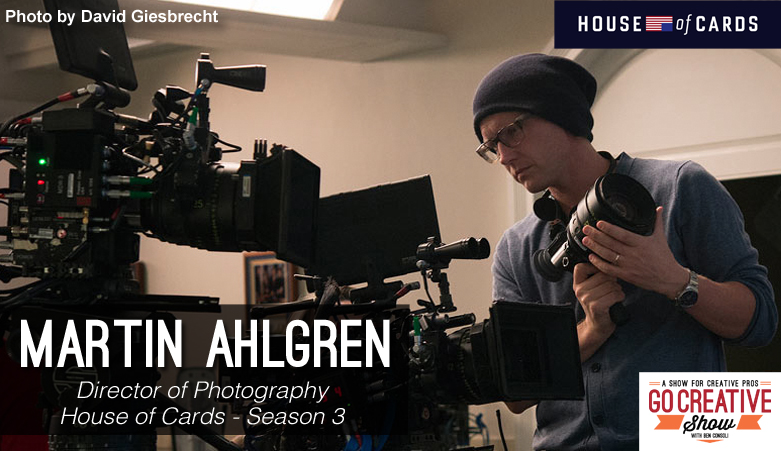 IN THIS EPISODE:
Today we invite Martin Ahlgren, Director of Photography for House of Cards Season 3. Martin and I discuss all the details behind lighting, lensing, and creating the absolutely stunning visuals of the hit Netflix show.
The Go Creative Show is supported by
Kessler – www.kesslercrane.com
Rule Boston Camera – www.rule.com
PremiumBeat.com
NewsShooter.com

The PremiumBeat.com Song of the Week
Spotlight: Martin Ahlgren
Martin Ahlgren is the brilliant Director of Photography for House of Cards season 3. We discuss all the behind the scenes tricks that help him create one of the best looking television shows of our time. The lenses, the lighting and the beautifully crafted dance between blocking actors and moving cameras… These are just a few of the things that make us fall in love with each and every episode. Martin also discusses how his work in commercials and music videos offer him a playground of experimentation that often times result in techniques for his tv and feature film work. Fan boys and girls rejoice as we dive deep into all things House of Cards.
How to prep each episode when there is no time to prep

The pre-planned lighting scenarios that helped keep Martin on schedule

Working with the actors and blocking scenes

Shooting Red Dragon 6K but framing for 5K

Shooting the oval office, over and over and over and over again.

Controlling the camera via foolcontrol

Martin's extensive portfolio of music videos and commercials

and more…
SOME LINKS MENTIONED IN THE EPISODE:
SUBSCRIBE:
SHOW SUPPORTERS:
Kessler – Innovative Tools for Filmmaking
www.kesslercrane.com
Rule Boston Camera – Buy. Rent. Create.
www.rule.com
PremiumBeat – Exclusive Royalty-Free Music and Sound
www.premiumbeat.com
NewsShooter – Making the real world look as good as cinema
NewsShooter.com
Like this episode? Share!