Podcast: Play in new window | Download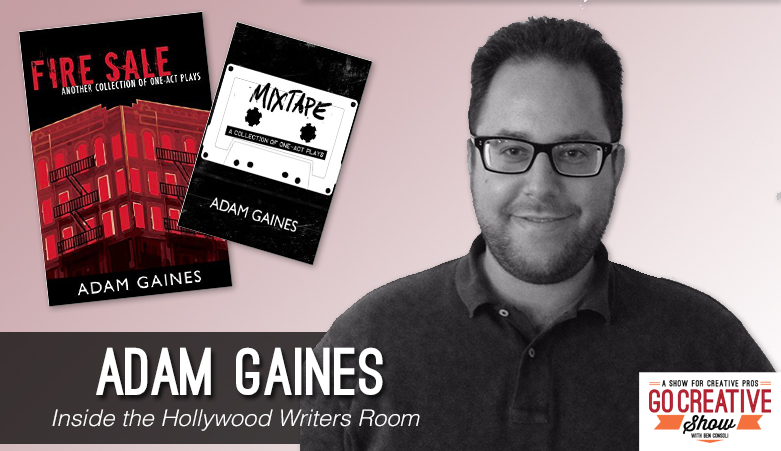 IN THIS EPISODE:
Adam Gaines is a writer for film, tv, theater, and comics and he's here today to take us inside the Hollywood writers room.
The Go Creative Show is supported by
Kessler – www.kesslercrane.com
Rule Boston Camera – www.rule.com
PremiumBeat.com
NewsShooter.com
Shutterstock

Rule Boston Camera
New website at www.Rule.com and new Learning Lab on May 25th "Monitor Calibration, When Accuracy Matters" RSVP Here.
The PremiumBeat.com Song of the Week
Spotlight: Adam Gaines
As a rising star in the Hollywood writers community, Adam Gaines has written for network television shows like NBC's State of Affairs and the FX drama, The Bridge, and his story doesn't end there because Adam has also written for feature films, theater, and even comics. Adam shares his story, starting at the bottom and working his way into the coveted writers room. And now that he's there, he shares behind the scenes secrets of how some of your favorite shows and movies are made.
Why being dialog-heavy writer makes it harder to break into the industry

Why a writers assistant is not what you think

What happens when a show flops

The behind the scenes secrets of a "writers room"

What is the most coveted episode for a writer to work on

Adam's upcoming film "Negative" directed by Josh Caldwell
How releasing Mixtape a free collection of 1-act plays, jumpstarted Adam's career
Fire Sale is Adam's latest collection of 1-act plays and it's only $1

and much more!
SOME LINKS MENTIONED IN THE EPISODE:
SUBSCRIBE:
SHOW SUPPORTERS:
Kessler – Innovative Tools for Filmmaking
www.kesslercrane.com
Rule Boston Camera – Buy. Rent. Create.
www.rule.com
PremiumBeat – Premium Royalty-Free Music and Sound
www.premiumbeat.com
NewsShooter – Making the real world look as good as cinema
NewsShooter.com
Shutterstock – Premium Footage and Images
Shutterstock.com
Like this episode? Share!