Podcast: Play in new window | Download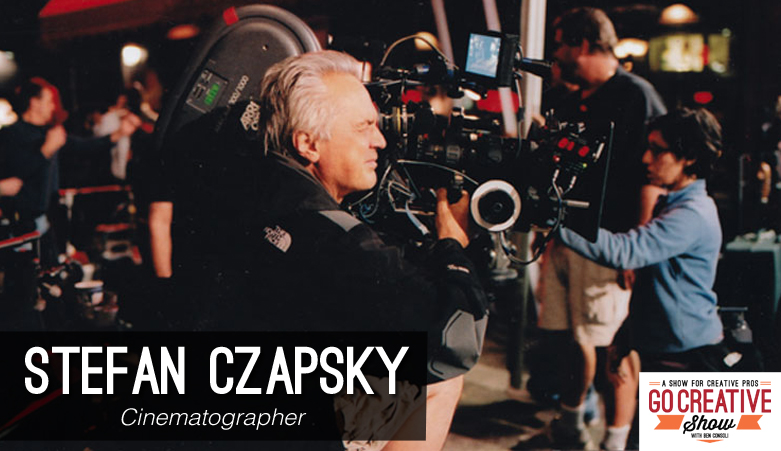 IN THIS EPISODE:
Today i'm joined by cinematographer Stefan Czapsky to discuss his latest film Max and the strategies he employs to light and shoot animals and kids. Plus Stefan's work with Tim Burton, shooting Edward Scissorhands, Batman Returns, Ed Wood and so much more.
The Go Creative Show is supported by
Kessler – www.kesslercrane.com
Rule Boston Camera – www.rule.com
PremiumBeat.com
NewsShooter.com
Shutterstock

The PremiumBeat.com Song of the Week
Listen to this weeks full track: Bad Ass by Francesco D'Andrea
Spotlight: Stefan Czapsky
Renowned director of photography Stefan Czapsky, ASC has captured visually iconic films such as Edward Scissorhands, Batman Returns and Ed Wood for director Tim Burton. After years of feature films and commercials, Stefan is here today to discuss his latest feature "Max". Max's main character is a dog, and we discuss the challenges of shooting children and animals and how he overcame them with innovating camera and lighting techniques. We also discuss Stefan's latest television project, "Shades of Blue" starring Jennifer Lopez.
Why does Stefan love the digital format and the evolution of LED lighting? What was it like working with Tim Burton and Johnny Depp? All of these questions will be answered.
Being a "process oriented" cinematographer what what that means.

What really happens when a film wraps

Working with animals and children in front of the camera.

Lighting and framing for the animal star in "Max"

Embracing technology and the evolution of LED lighting

The challenges with Stedicam

Working with Tim Burton and Johnny Depp

"Shades of Blue" starring Jennifer Lopez

From Hollywood to the farmlands of upstate New York

How Steven Soderbergh and David Fincher ushered the digital revolution and changed cinema for the better

and more…
SOME LINKS MENTIONED IN THE EPISODE:
SUBSCRIBE:
SHOW SUPPORTERS:
Kessler – Innovative Tools for Filmmaking
www.kesslercrane.com
Rule Boston Camera – Buy. Rent. Create.
www.rule.com
PremiumBeat – Premium Royalty-Free Music and Sound
www.premiumbeat.com
NewsShooter – Making the real world look as good as cinema
NewsShooter.com
Shutterstock – Premium Footage and Images
Shutterstock.com
Like this episode? Share!