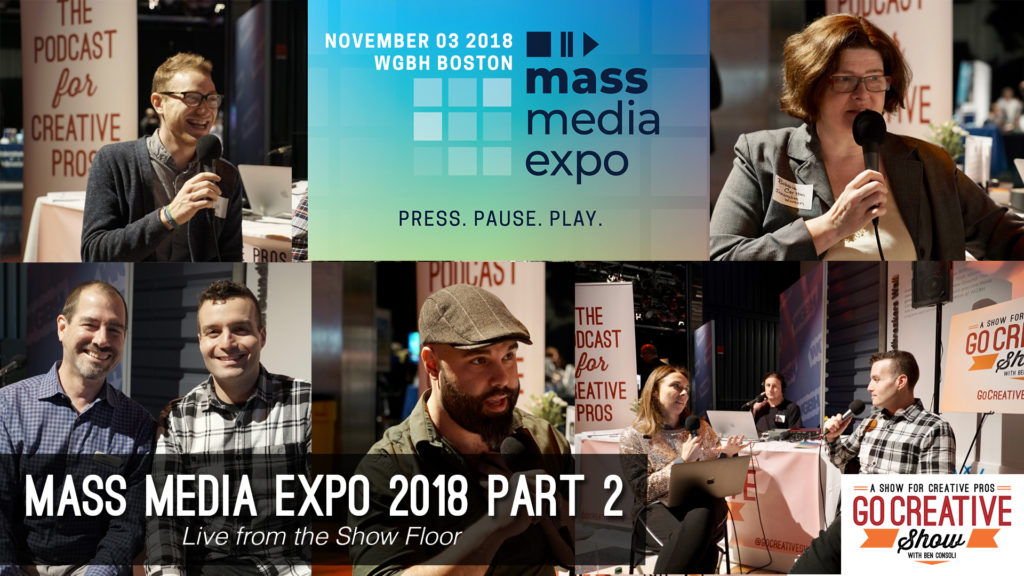 IN THIS EPISODE:
Our coverage of the Mass Media Expo was so HUGE we had to break it up into 2 episodes! Listen as host Ben Consoli and producers Matt Russell and Connor Crosby interview keynote speakers, panelists and representatives from some of the most influential media companies in New England. This is part 2 of a 2-part series.
The Go Creative Show is supported by
Hedge
Rule Boston Camera
PremiumBeat
Shutterstock
News Shooter

The PremiumBeat.com Song of the Week
Spotlight: Mass Media Expo Part 2
Ian Fox, Podcast Garage
Jack Lilburn and David Pietricola from Zero VFX
Bobbie Carlton, Carlton PR / Innovation Women
Steve Bizenov, Media Services
Nate McNiff
Irene Wachsler
John Rule from Rule Boston Camera
Tim Mangini, Senior Director of Production Technology at WGBH
and much more
SUBSCRIBE:
LINKS:
SHOW SUPPORTERS:
Hedge – The fastest way to backup media.
Hedge
Rule Boston Camera – Buy. Rent. Create.
www.rule.com // Rule's Event Page
PremiumBeat – Premium Royalty-Free Music and Sound
www.premiumbeat.com
Shutterstock – Stock footage and photos you'll love
www.shutterstock.com
News Shooter – Making the real world look as good as cinema
NewsShooter.com
Like this episode? Share!