Podcast: Play in new window | Download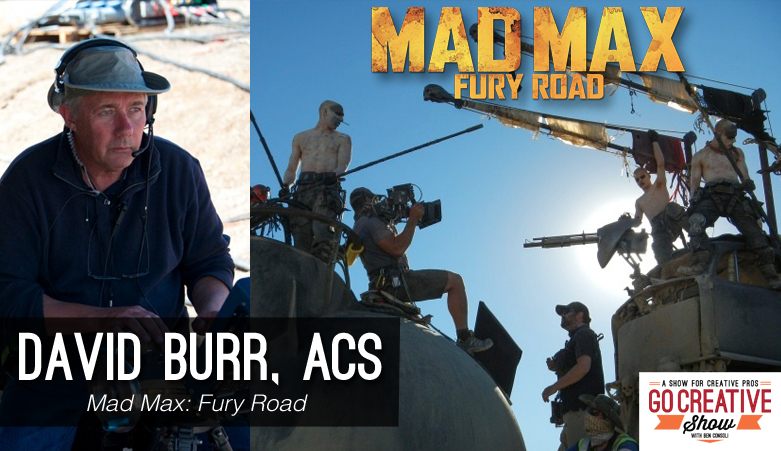 IN THIS EPISODE:
Today we discuss the brilliant cinematography of Mad Max: Fury Road with second unit Director of Photography David Burr. We get a behind the scenes look into all of the incredible challenges and innovations that made this film an instant classic.
The Go Creative Show is supported by
Kessler – www.kesslercrane.com
Rule Boston Camera – www.rule.com
PremiumBeat.com
NewsShooter.com
Shutterstock

The PremiumBeat.com Song of the Week
Listen to this weeks full track: Gladiators by Cymatix
Spotlight: David Burr, ACS
David Burr's cinematography career spans over 30 years with countless feature and short films, but today he's here to discuss his recent mega-blockbuster hit Mad Max: Fury Road. As the second unit Director of Photography, David was responsible for many of the stunning action sequences and we discuss all the behind the scenes secrets that made this film an instant classic. Then we discuss the role of a second unit Director of Photography. What are their responsibilities, how do they interact with the director and cast, and how you can break into this field.
The switch from 3D to 2D

Using Alexa cameras

The challenges of shooting in the desert

Using Canon 5DII and Olypus OM-D for crash cams

How a leaf blower became their essential tool

A crane dug into the sand was the key to one of the most iconic shots

The strategy behind center framing and super fast cuts

Shooting day for night

The responsibilities of a second unit on a film production

and more…
SOME LINKS MENTIONED IN THE EPISODE:
SUBSCRIBE:
SHOW SUPPORTERS:
Kessler – Innovative Tools for Filmmaking
www.kesslercrane.com
Rule Boston Camera – Buy. Rent. Create.
www.rule.com
PremiumBeat – Premium Royalty-Free Music and Sound
www.premiumbeat.com
NewsShooter – Making the real world look as good as cinema
NewsShooter.com
Shutterstock – Premium Footage and Images
Shutterstock.com
Like this episode? Share!