Podcast: Play in new window | Download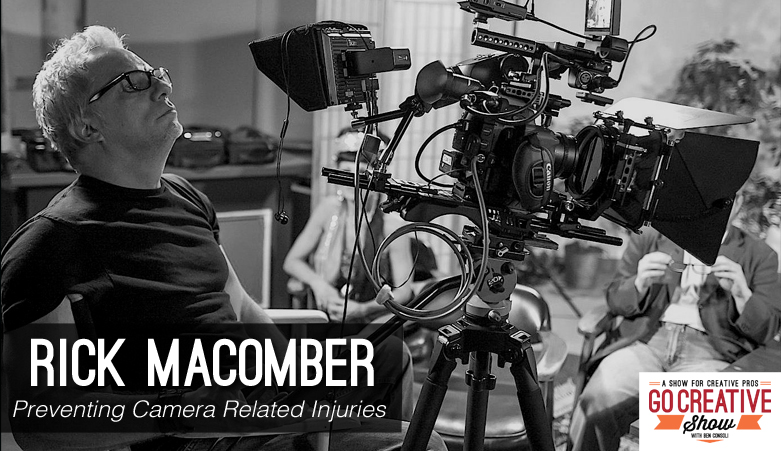 IN THIS EPISODE:
Today we speak with Rick Macomber, an Emmy Award winning Director of Photography and photojournalist for CBS News. We discuss camera related injuries caused by the common repetitive motions that most camera operators do every day. If you are a camera operator, you may be a risk for these damaging injuries and we discuss how to identify and prevent them.
The Go Creative Show is supported by
Kessler – www.kesslercrane.com
Rule Boston Camera – www.rule.com
PremiumBeat.com
NewsShooter.com

The PremiumBeat.com Song of the Week
Listen to this weeks full track: It Matters by Allegory Music
Spotlight: Rick Macomber
Rick Macomber is an Emmy Award winning Director of Photography and photojournalist for CBS News. With over 30 years in the business, Rick suffered from RSI, repetitive strain injuries caused by the repetitive motions of a camera operator. Simple things like lifting the camera with one hand, or tilting your head up to see the viewfinder, over time can cause damage that can lead to surgery and take you out of the business for an extended period of time. Rick's first hand knowledge of these issues makes him a great resource and we discuss how to identify and prevent these RSI's from happening to you. We discuss simple tips that you can do today that could make a major difference in your career.
The camera man of the 80's and how things have changed

The most common injuries for camera operators

What are the warning signs of RSI's

What to expect if you need surgury

The hidden dangers of repetitive motion

Simple changes you can make to help avoid major injuries

Why the Letus Helix Jr may be the best gimbal option for you
8mm film from the 70's that Rick spoke about

and more…
SOME LINKS MENTIONED IN THE EPISODE:
SUBSCRIBE:
SHOW SUPPORTERS:
Kessler – Innovative Tools for Filmmaking
www.kesslercrane.com
Rule Boston Camera – Buy. Rent. Create.
www.rule.com
PremiumBeat – Exclusive Royalty-Free Music and Sound
www.premiumbeat.com
NewsShooter – Making the real world look as good as cinema
NewsShooter.com
Like this episode? Share!