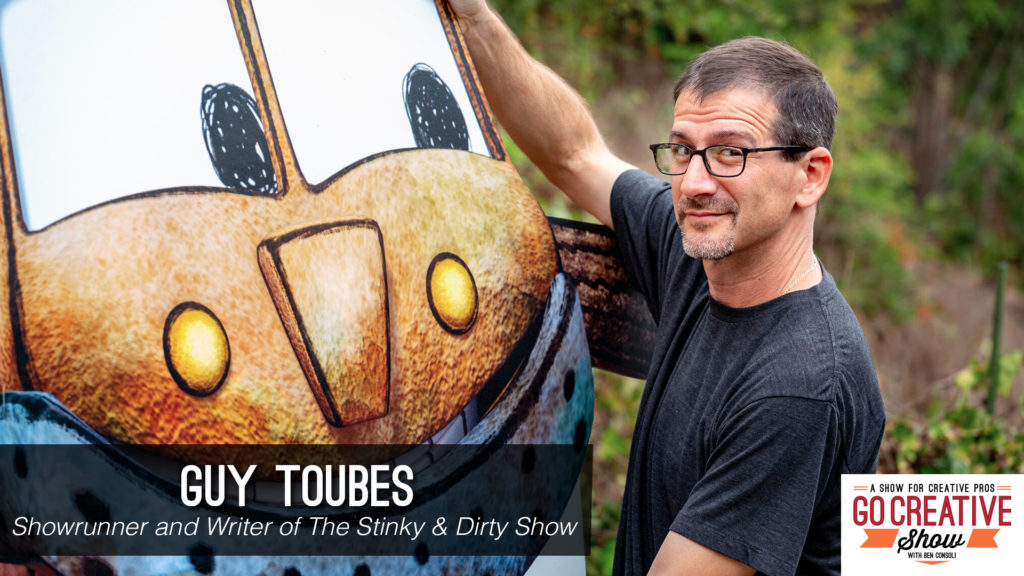 IN THIS EPISODE:
Guy Toubes is the writer and showrunner for the Emmy Nominated animated series The Stinky And Dirty Show on Amazon Prime. As a prolific writer and story editor for countless children's shows, Guy has a unique perspective on telling stories that both entertain and teach children and adults.
Guy joins commercial director and Go Creative Show host Ben Consoli to discuss the challenges of writing for young audiences, the limitations of 3D animation, using animatics, showrunning an animated series, and so much more.
The Go Creative Show is supported by
Hedge
Rule Boston Camera
PremiumBeat
Shutterstock
News Shooter

The PremiumBeat.com Song of the Week
Spotlight: Guy Toubes
Creating the Stinky and Dirty Show
What do showrunners really do
The Mister Rogers effect
How to tackle big problems on a kids show
Telling stories for kids and parents
Working with Mark Hamill
and much more
SUBSCRIBE:
LINKS:
SHOW SUPPORTERS:
Hedge – The fastest way to backup media.
Hedge
Rule Boston Camera – Buy. Rent. Create.
www.rule.com // Rule's Event Page
PremiumBeat – Premium Royalty-Free Music and Sound
www.premiumbeat.com
Shutterstock – Stock footage and photos you'll love
www.shutterstock.com
News Shooter – Making the real world look as good as cinema
NewsShooter.com
Like this episode? Share!