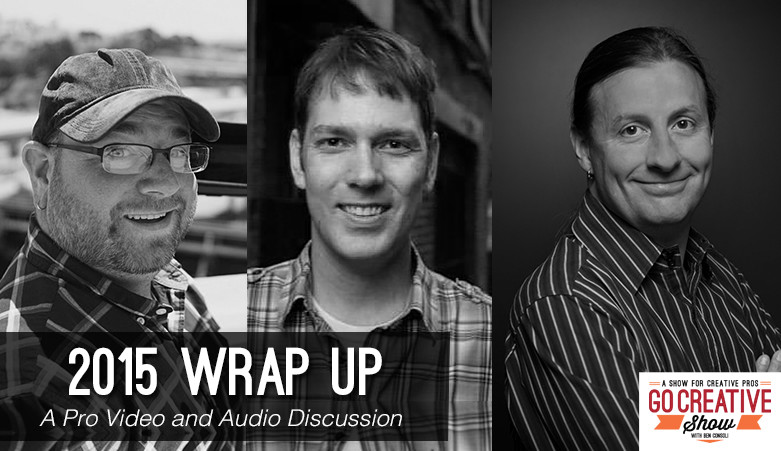 IN THIS EPISODE:
Today we take a look back at 2015 and reflect on all the highlights, lowlights, and trends of the production and post production world. Our panel includes cinematographer Chris Loughran, colorist Rob Bessette, and Matt Russell, our very own audio mix engineer, and we cover all sides of production.
The Go Creative Show is supported by
Kessler – www.kesslercrane.com
Rule Boston Camera – www.rule.com
PremiumBeat.com
NewsShooter.com
Shutterstock

The PremiumBeat.com Song of the Week
Spotlight: 2015 Round Table Discussion
We bid farewell to 2015 with a round table discussion from a panel of experts. Cinematographer Chris Loughran, Colorist Rob Bessette and our very own Matt Russell discuss the trends of 2015, the influx of new cameras, how DaVinci Resolve has become the undisputed color king, and the exciting and challenging projects we all shared throughout the year.
Breaking down Rob's color grade process

How Rob Hardy's Instagram inspired the video

The benefits of editing 4k

The trends in color grading

The production and post production trends of 2015

The year of Sony FS7 and A7S

How smaller and cheaper equipment is leveling the playing field

Where our panel goes for inspiration

How to spice up the corporate talking head video

Our panel's most interesting and/or challenging projects of 2015

The highlights and lowlights of 2015
SOME LINKS MENTIONED IN THE EPISODE:
SUBSCRIBE:
SHOW SUPPORTERS:
Kessler – Innovative Tools for Filmmaking
www.kesslercrane.com
Rule Boston Camera – Buy. Rent. Create.
www.rule.com
PremiumBeat – Premium Royalty-Free Music and Sound
www.premiumbeat.com
NewsShooter – Making the real world look as good as cinema
NewsShooter.com
Shutterstock – Premium Footage and Images
Shutterstock.com