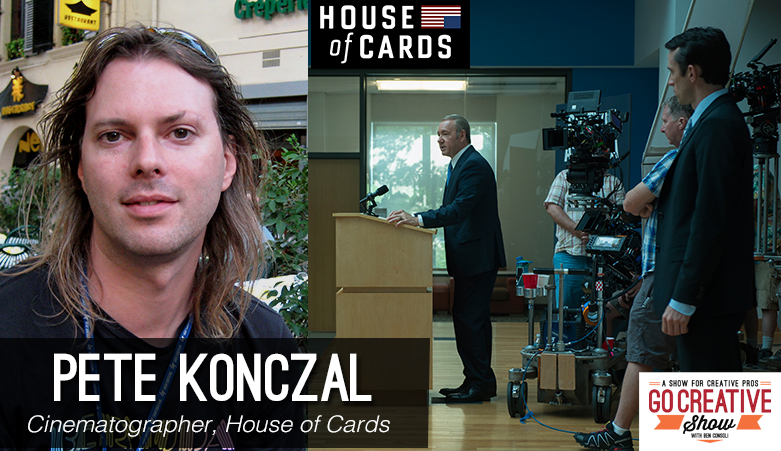 IN THIS EPISODE:
Today's guest is Pete Konczal, Cinematographer of the brilliantly shot Netflix hit, House of Cards season 4. Pete and I discuss how he applied his style to this season as well as his shooting and lensing secrets.
The Go Creative Show is supported by
Kessler – www.kesslercrane.com
Rule Boston Camera – www.rule.com
PremiumBeat.com
NewsShooter.com
Shutterstock

The PremiumBeat.com Song of the Week
Spotlight: Pete Konczal
Pete Konczal is the incredibly talented cinematographer of the massive Netflix show, House of Cards season 4. Pete and I discuss how he incorporated his style into this season, his shooting and lighting techniques, and why living in the shadows is more fun.
Pete praises my Smart Kids Music Video

The Cinematography of House of Cards

The lighting and shooting techniques that Pete brought to House of Cards season 4

Why was the 32mm the hero lens

Embracing the shadows

Why the Oval Office is the hardest space to shoot in

Shooting on Red Dragon with the internal low light filter

The benefits of shooting with 2 cameras

Controlled Softlight

The benefits of shooting art and fashion films

Why Pete is inspired by Gordon Willis

and much more!
SOME LINKS MENTIONED IN THE EPISODE:
SUBSCRIBE:
SHOW SUPPORTERS:
Kessler – Innovative Tools for Filmmaking
www.kesslercrane.com
Rule Boston Camera – Buy. Rent. Create.
www.rule.com
PremiumBeat – Premium Royalty-Free Music and Sound
www.premiumbeat.com
NewsShooter – Making the real world look as good as cinema
NewsShooter.com
Shutterstock – Premium Footage and Images
Shutterstock.com