Podcast: Play in new window | Download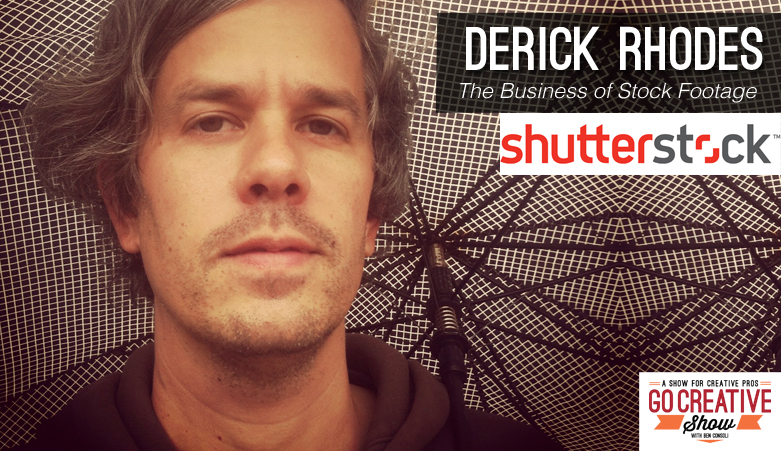 IN THIS EPISODE:
Today we discuss the business of stock footage with Derick Rhodes from Shutterstock Derick teaches us how to get started in the stock footage business, what kinds of footage are successful, how to legally protect yourself and how 4K has changed the industry for the better. You could be the next stock superstar with the footage on your cutting room floor.
The Go Creative Show is supported by
Kessler – www.kesslercrane.com
Rule Boston Camera – www.rule.com
PremiumBeat.com
NewsShooter.com
Shutterstock

The PremiumBeat.com Song of the Week
Spotlight: Derick Rhodes
Derick Rhodes manages Footage Marketing at Shutterstock and is here today to discuss how to break into the stock footage industry. We discuss how to submit your footage and protect yourself with location and talent releases, the demand for 4K and how higher quality footage is taking over the industry. We also discuss payment and how much you can expect to actually make. You'll be surprised how footage you may already have could be generating income.
Shutterstock has nearly 60 million clips but Derick gives us the tips and tricks to help stand out and get your footage seen and bought.
Thoughts on this years NAB and Blackmagic Design

Dericks Short Film "Secret Everything" and Vimeo distribution

How to start a career in stock footage

How to properly keyword your footage to stand out

4K Blu-Ray may change the industry forever

His experience on the set of "House of Cards"

The proper release forms for your video projects

How much can you really make with stock footage

Hollywood uses stock footage too

and more…
SOME LINKS MENTIONED IN THE EPISODE:
SUBSCRIBE:
SHOW SUPPORTERS:
Kessler – Innovative Tools for Filmmaking
www.kesslercrane.com
Rule Boston Camera – Buy. Rent. Create.
www.rule.com
PremiumBeat – Premium Royalty-Free Music and Sound
www.premiumbeat.com
NewsShooter – Making the real world look as good as cinema
NewsShooter.com
Shutterstock – Premium Footage and Images
Shutterstock.com
Like this episode? Share!