Podcast: Play in new window | Download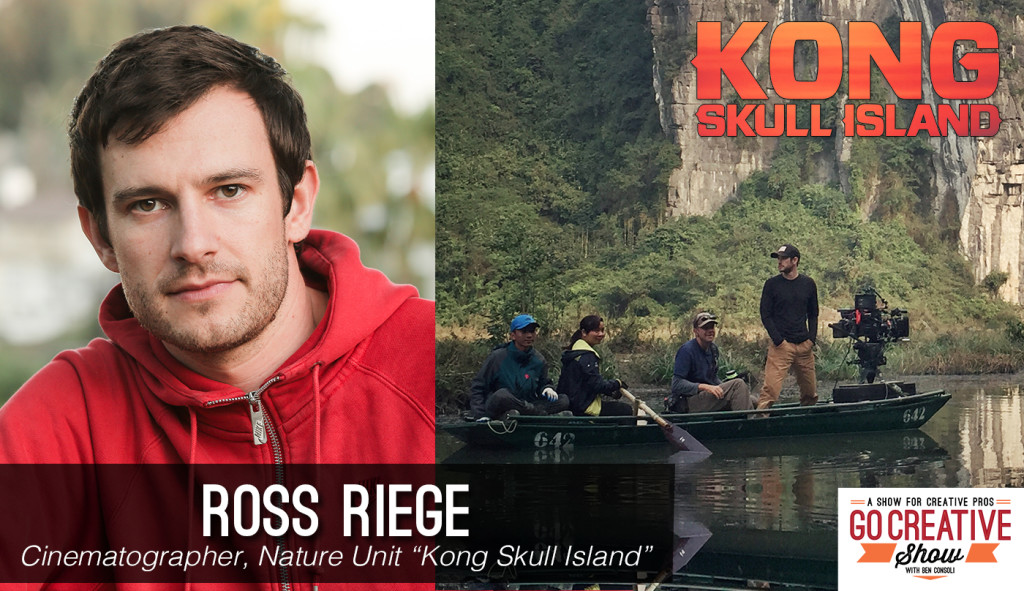 IN THIS EPISODE:
Ross Riege is the cinematographer behind the stunningly beautiful environmental landscape shots from Kong: Skull Island. Ross and I discuss his Indi filmmaking approach to this blockbuster feature and it's innovative "Nature Unit".
The Go Creative Show is supported by
Hedge For Mac
Kessler Crane
Rule Boston Camera
PremiumBeat
News Shooter

The PremiumBeat.com Song of the Week
Spotlight: Ross Riege
Ross Riege's experience behind the camera has spanned everything from commercial, to documentary, indie films, and even blockbuster Hollywood hits like the recent Kong: Skull Island. With Kong, Ross directed the photography for the "Nature Unit" responsible for everything from sweeping landscape shots, to simple pickups. Ross and I talk all about this unique unit and how he worked with director Jordan Vogt Roberts. Ross also was the director of photography for ABC Networks hit show The Catch and we discuss the big differences between lighting for film vs network television.
The Nature Unit of Kong Skull Island

Working with Jordan Vogt Roberts

Shooting King of Summer

Building the perfect cinematographers pitch and mood board

How the Nature Unit blended with the other shooting units

How Kong Skull Island blended indie and Hollywood filmmaking

Shooting landscapes in Vietnam

Shooting the ABC series The Catch

The difference between lighting for broadcast tv vs feature film

and much much more!
SOME LINKS MENTIONED IN THE EPISODE:
SUBSCRIBE:
SHOW SUPPORTERS:
Hedge for Mac – The fastest way to backup media.
HedgeForMac.com
Kessler – Innovative Tools for Filmmaking
www.kesslercrane.com
Rule Boston Camera – Buy. Rent. Create.
www.rule.com // Rule's Event Page
PremiumBeat – Premium Royalty-Free Music and Sound
www.premiumbeat.com
News Shooter – Making the real world look as good as cinema
NewsShooter.com
Like this episode? Share!