Podcast: Play in new window | Download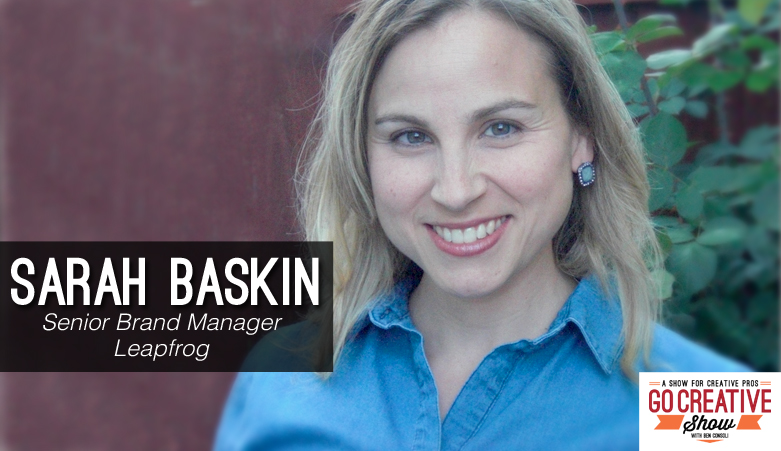 IN THIS EPISODE:
Today I'm joined by Sarah Baskin, senior brand manager at Leapfrog. Sarah is a toy marketer who produces tv commercials, web videos and transmedia stories for the children's toy industry. Sarah shares tips on marketing to kids and moms, directing children on set and her previous career writing for The Apprentice and other hit reality shows.
The Go Creative Show is supported by
Kessler – www.kesslercrane.com
Rule Boston Camera – www.rule.com
PremiumBeat.com
NewsShooter.com
Lynda.com
Weekly Update
The PremiumBeat.com Song of the Week
Listen to this week's full track here: Come to Life By Ben Beiny
Spotlight: Sarah Baskin
Sarah Baskin has been playing in the worlds of entertainment, new media, and advertising for 15 years as a producer and marketing professional – from the early days of "webcasting", when she was coined by Boston.com as the "Diane Sawyer of the Internet" to her current role as a brand marketer in the toy industry. Her expertise in transmedia storytelling has been acquired in the trenches of rich media advertising, reality TV development, children's entertainment, and finally consumer marketing for companies such as Hasbro and LeapFrog. Reality TV, working with kids, and surviving death… we cover it all and get an in depth look at how video has revolutionized the toy industry.
What is trans-media storytelling?

The state of today's toy industry

Directing kids

How to market towards kids and parents

Why Sarah was named the Diane Saywer of the internet

Writing for The Apprentice and other reality tv shows

What is a viral video really?

Surviving Death and the tv shows that don't make it to air/span>

Sarah's latest commercial for LeapReader
Sarah's latest commercial for Read With Me Scout
And much more.
SOME LINKS MENTIONED IN THE EPISODE:
SUBSCRIBE:
SHOW SUPPORTERS:
Kessler – Innovative Tools for Filmmaking
www.kesslercrane.com
Rule Boston Camera – Buy. Rent. Create.
www.rule.com
PremiumBeat – Exclusive Royalty-Free Music and Sound
www.premiumbeat.com
NewsShooter – Making the real world look as good as cinema
NewsShooter.com
Like this episode? Share!