Podcast: Play in new window | Download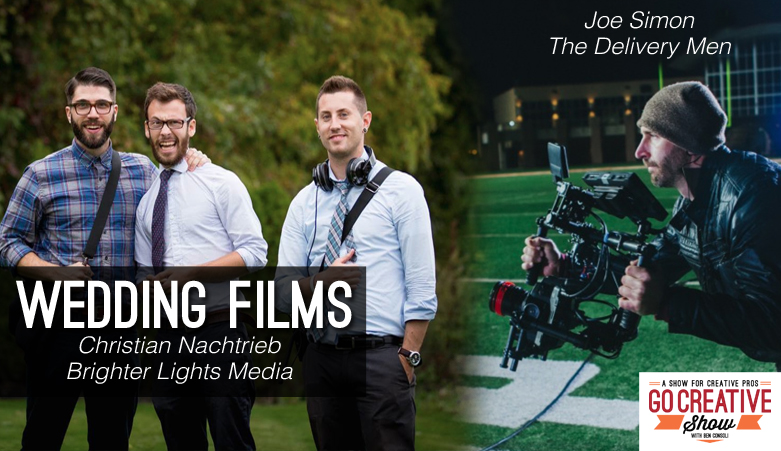 IN THIS EPISODE:
Today we explore the art of the wedding film and how its evolved into a cinematic experience. Christian Nachtrieb from Brighter Lights Media shares tips for finding and managing customers, what to charge, what cameras he uses, his upcoming 4K wedding and the dreaded Bride-Zilla! Plus Joe Simon from The Delivery Men shares his experience with the Panasonic GH4.
The Go Creative Show is supported by
Kessler – www.kesslercrane.com
Rule Boston Camera – www.rule.com
PremiumBeat.com
NewsShooter.com
Lynda.com
Weekly Update
Rule Boston Camera Events at Rule.com

Go Creative Show surpasses 300,000! downloads

Ben talks about the new video he's directing for Venus Mars Project

Matt Allard talks about telling stories without words on NewsShooter.com
Joe Simon from The Delivery Men shares his experience with the Panasonic Lumix GH4
The PremiumBeat.com Song of the Week
Ben's Lynda.com Course Selection
Spotlight: Christian Nachtrieb from Brighter Lights Media
Christian Nachtrieb is a wedding cinematographer with Brighter Lights Media, one of the countries premier wedding film company. Christian shares his experience in the evolving wedding film industry and offers his thoughts on how much to charge, his camera choices, 4K for weddings and the dreaded BRIDE-ZILLA.
How has the wedding film industry evolved since DSLR's

What to charge for shooting a wedding

How to keep brides and grooms happy

How to control, without being controlling

How to achieve a cinematic wedding film

4K for wedding videos?

How to properly tag your videos online

Being an entrepreneur

And much more.
SOME LINKS MENTIONED IN THE EPISODE:
SUBSCRIBE:
SHOW SUPPORTERS:
Kessler – Innovative Tools for Filmmaking
www.kesslercrane.com
Rule Boston Camera – Buy. Rent. Create.
www.rule.com
PremiumBeat – Exclusive Royalty-Free Music and Sound
www.premiumbeat.com
NewsShooter – Making the real world look as good as cinema
NewsShooter.com
Like this episode? Share!