Podcast: Play in new window | Download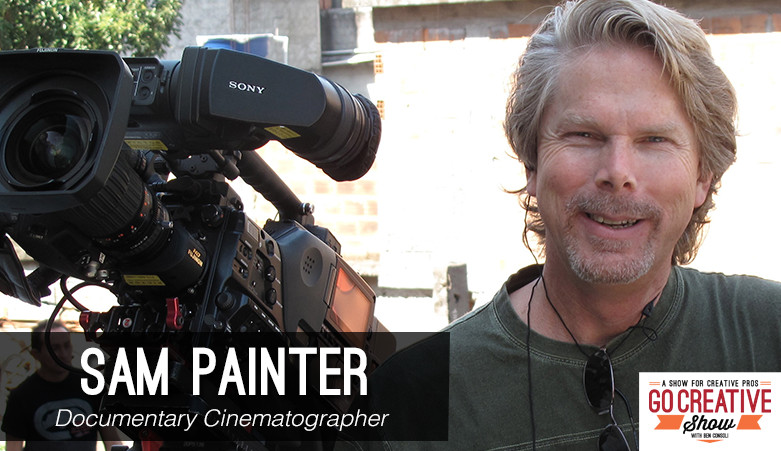 IN THIS EPISODE:
Today we invite Sam Painter, the documentary cinematographer behind some of the most influential modern documentaries including Going Clear and Steve Jobs: The Man in the Machine
The Go Creative Show is supported by
Kessler – www.kesslercrane.com
Rule Boston Camera – www.rule.com
PremiumBeat.com
NewsShooter.com
Shutterstock

The PremiumBeat.com Song of the Week
Spotlight: Sam Painter
Sam Painter is the cinematographer behind some of the most recent influential documentaries including Going Clear and Steve Jobs: The Man in the Machine. Sam and I discuss his lighting and shooting techniques and how he creates beautiful realism in his work. We also discuss his time in London, meeting music and film icons while shooting for Entertainment Weekly and Lifestyles of the Rich and Famous as well as his time in the White House Press Corps during Ronald Regan's second term.
The lifestyle of a documentarian

Exposing Scientology and the backlash from "Going Clear"

Steve Jobs the Man in the Machine

The best gear package for documentary

How to light naturally

Making the interviewees comfortable

Sam's work on Lifestyles of Rich and Famous and Entertainment Tonight

The lessons learned from shooting news

Meeting the Beatles

Working for the White House Press Corp

Hiding the early signs of Ronald Regan's Alzheimers

Chasing Sofia Lauren through the streets of Rome

and much more!
SOME LINKS MENTIONED IN THE EPISODE:
SUBSCRIBE:
SHOW SUPPORTERS:
Kessler – Innovative Tools for Filmmaking
www.kesslercrane.com
Rule Boston Camera – Buy. Rent. Create.
www.rule.com
PremiumBeat – Premium Royalty-Free Music and Sound
www.premiumbeat.com
NewsShooter – Making the real world look as good as cinema
NewsShooter.com
Shutterstock – Premium Footage and Images
Shutterstock.com
The following two tabs change content below.
A multi-talented producer and visual storyteller, Ben Consoli's credits range from director of photography, editor, director, and video producer to songwriter, composer, and former lead singer of the rock band "Violet Nine." As owner of BC Media Productions, Ben has produced award-winning commercials and brand videos for companies like Nike, Puma, Verizon, Gillette and Pillsbury. Learn more about
BC Media Productions
Latest posts by Ben Consoli (see all)
Like this episode? Share!