Podcast: Play in new window | Download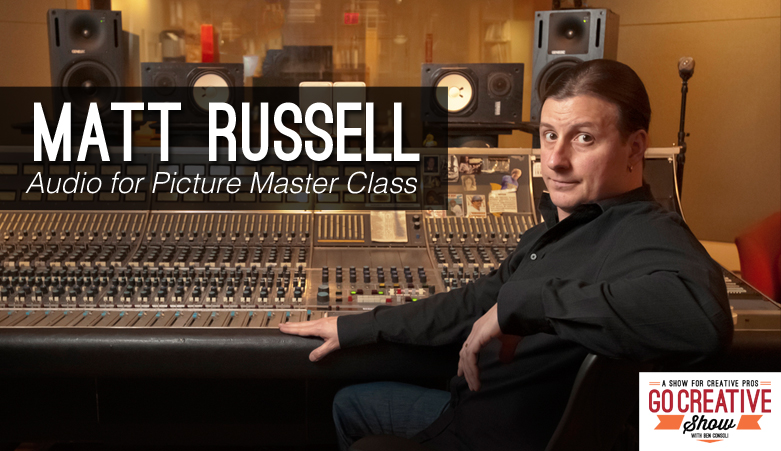 IN THIS EPISODE:
Today we dive deep into mixing audio for post production with our special guest Matt Russell. This episode is really a Master Class with one of New Englands most accomplished and successful audio engineers. We answer listener questions and discuss EQ techniques, ducking, how to balance voice and music together, fixing common audio problems, and more.
The Go Creative Show is supported by
Kessler – www.kesslercrane.com
Rule Boston Camera – www.rule.com
PremiumBeat.com
NewsShooter.com
Lynda.com
Weekly Update
Go Creative Show celebrates 400,000 downloads

Rule Boston Camera Events at Rule.com
The PremiumBeat.com Song of the Week
Listen to this weeks full track: Rebel Call by Reaktor Productions
Ben's Lynda.com Podcast Playlist
Spotlight:
XXX
How to balance dialog and music

How to make the voice "pop"

Cleaning up pops and clicks

Managing the engineer / director relationship

Matt's strategies for a successful mix

The power of iZotope RX4

and more…
SOME LINKS MENTIONED IN THE EPISODE:
SUBSCRIBE:
SHOW SUPPORTERS:
Kessler – Innovative Tools for Filmmaking
www.kesslercrane.com
Rule Boston Camera – Buy. Rent. Create.
www.rule.com
PremiumBeat – Exclusive Royalty-Free Music and Sound
www.premiumbeat.com
NewsShooter – Making the real world look as good as cinema
NewsShooter.com
Like this episode? Share!