Podcast: Play in new window | Download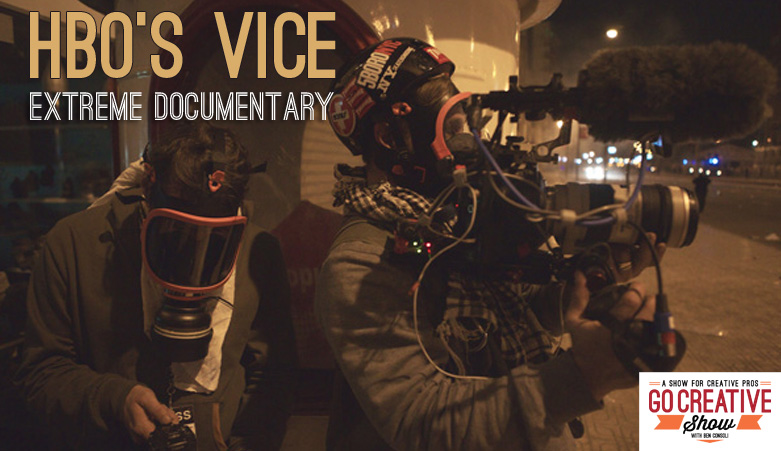 IN THIS EPISODE:
Today your host Ben Consoli speaks with Cameraman Jerry Ricciotti and Equipment Manager Dan Meyer from the HBO Documentary Series VICE. We talk about the dangerous and extreme places they cover around the globe including Afganistan, Libya, North Korea and more, also what cameras they use and why. Plus Ross Shain from Imagineer Systems comes on the show to talk about the rotoscoping and tracking utility Mocha Pro.
The Go Creative Show is supported by Kessler (www.kesslercrane.com), Rule Boston Camera (www.rule.com), PremiumBeat.com.
and NewsShooter (NewsShooter.com)
Weekly Update
November Rule Events are coming up. More info at Rule.com


Ben's take on directing a new commercial starring NHL superstar Patrice Bergeron

Great new guests coming up including Shane Hurlbut and Vincent Laforet!

Jonah Kessel's article on NewsShooter.com is essential reading
Great video on the 14 best new features of Adobe Premiere Pro
Netflix is bringing 4K to your TV in 2014. Find out more
Ross Shain from Imagineer Systems speaks with me about the power of Mocha Pro
The PremiumBeat.com Song of the Week
Listen to this week's full track here: Beach Rabbit by Senbei

Spotlight: HBO's VICE
Cameraman Jerry Ricciotti and Equipment Manager Dan Meyer travels the globe to film some of the biggest conflicts and most hostile environments for the HBO series Vice. These are some the most extreme documentaries in the world today and I am a huge fan of their work and an admirer of the courage it takes to do their work. Today we speak with both Jerry and Dan about their experiences shooting for VICE, their decision to use Canon's C300 cameras and some of the memorable and frightening moments their have experienced while shooting the show.
Why they chose C300

The most terrifying places to shoot in the world

How the current state of news delivery motivated Dan to work on VICE

Why Chicago is one of the most dangerous places on earth

What can we expect in Season 2

Shooting strategies for every corner of the world

Why Arri Amira may be the perfect documentary camera

The strategies behing shooting the real world as it is.

And much more.
SOME LINKS MENTIONED IN THE EPISODE:
SUBSCRIBE:
SHOW SUPPORTERS & DISCOUNT CODES:
Kessler – Innovative Tools for Filmmaking
www.kesslercrane.com
Rule Boston Camera – Buy. Rent. Create.
www.rule.com
PremiumBeat – Exclusive Royalty-Free Music and Sound
www.premiumbeat.com
NewsShooter – Making the real world look as good as cinema
NewsShooter.com
Like this episode? Share!