Podcast: Play in new window | Download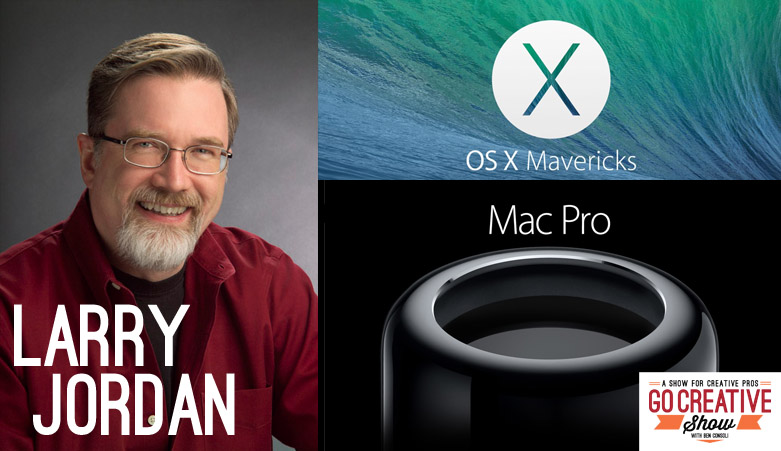 IN THIS EPISODE:
Today we speak with the internationally-renowned trainer and consultant Larry Jordan… the guru of all post production applications. We discuss LarryJordan.biz, his podcast, the state of network news, 4K and so much more. Plus Alex Gollner, aka Alex4D comes on the show to talk about the new Mac Pro and its impact on the production industry.
The Go Creative Show is supported by Kessler (www.kesslercrane.com), Rule Boston Camera (www.rule.com), PremiumBeat.com.
and NewsShooter (NewsShooter.com)
Weekly Update
November Rule Events are coming up. More info at Rule.com

Great coverage of PhotoPlus Expo at NewsShooter.com
We cover the recent Apple announcements including the new MAC PRO with Alex Gollner, Alex4D
The PremiumBeat.com Song of the Week
Spotlight: Larry Jordan
Larry Jordan is an internationally-renowned consultant and Apple-Certified trainer with over 35 years experience as a television producer, director and editor with national broadcast and corporate credits. Most of us know Larry as a recourse for some of the best training in the business. He publishes a FREE, 'Larry Jordan's Weekly Final Cut Newsletter' hosts the podcast, Digital Production Buzz and authors hundreds of hours of online training and eight books on editing. Larry teaches everything from apples pro apps to adobe apps and recently added Autodesk Smoke to his training. I am so pleased to shine our spotlight on the one… the only… Larry Jordan.
The business of teaching and benefits of a subscription model

Is Apple dedicated to the pro community?

The new Mac Pro and how it will change our industry

Larry's creative work as producer and director

The state of the news industry

How you can become a consultant and trainer

The future of Final Cut Pro X

Teaching Adobe, Avid and Autodesk

And much more.
SOME LINKS MENTIONED IN THE EPISODE:
SUBSCRIBE:
SHOW SUPPORTERS & DISCOUNT CODES:
Kessler – Innovative Tools for Filmmaking
www.kesslercrane.com
Rule Boston Camera – Buy. Rent. Create.
www.rule.com
PremiumBeat – Exclusive Royalty-Free Music and Sound
www.premiumbeat.com
NewsShooter – Making the real world look as good as cinema
NewsShooter.com
Don't forget you can get 20% OFF any Crumplepop product by using code "Need20" at checkout!
Like this episode? Share!