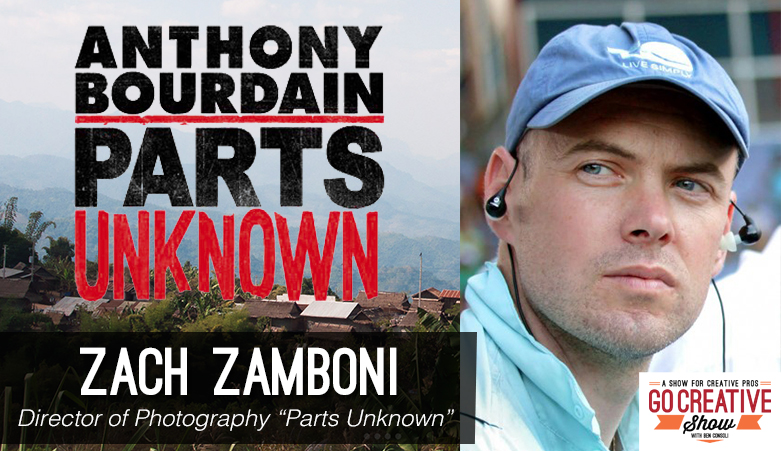 IN THIS EPISODE:
Zach Zamboni is the brilliant and visionary cinematographer for Anthony Bourdain: Parts Unknown and he's with us today to share his experiences shooting around the world. This episode of Go Creative Show was recorded in front of a live audience at Rule Boston Camera. Click here to watch the video of the interview.
The Go Creative Show is supported by
Hedge For Mac – HedgeForMac.com
Kessler – www.kesslercrane.com
Rule Boston Camera – www.rule.com
PremiumBeat.com
NewsShooter.com
Shutterstock

Rule Boston Camera
New website at www.Rule.com and don't forget to RSVP for upcoming events
New Sponsor – Hedge for Mac
Hedge for Mac is the fastest way to backup your media
The PremiumBeat.com Song of the Week
Spotlight: Zach Zamboni
Zach Zamboni is not only the brilliant cinematographer behind the lens of Anthony Bourdain: Parts Unknown, he is also a student of Philosophy and his visuals are informed by his deep appreciation for the human spirit. Zach has shot all over the world in often extreme conditions and has become expert in blending his cinematic looks with the unpredictability of non-fiction. This is not just a discussion about cameras, lensing, and lighting, it's a discussion on the philosophies of cinematography and how Zach is changing the way that television is produced.
Staying inspired and keeping it fresh

The secrets behind Zach's favorite episodes

Zach's shooting and lighting philosophy

How to inspire a creative process that changes week to week

The equipment needed for easy travel around the world

Stories from some of the most interesting places on earth

Working with Anthony Bourdain

and much more!
SOME LINKS MENTIONED IN THE EPISODE:
Go Creative Show Live Podcast with DP Zach Zamboni on 5.12.16 from Rule Boston Camera on Vimeo.
SUBSCRIBE:
SHOW SUPPORTERS:
Hedge for Mac – The fastest way to backup media.
HedgeForMac.com
Kessler – Innovative Tools for Filmmaking
www.kesslercrane.com
Rule Boston Camera – Buy. Rent. Create.
www.rule.com
PremiumBeat – Premium Royalty-Free Music and Sound
www.premiumbeat.com
NewsShooter – Making the real world look as good as cinema
NewsShooter.com
Shutterstock – Premium Footage and Images
Shutterstock.com