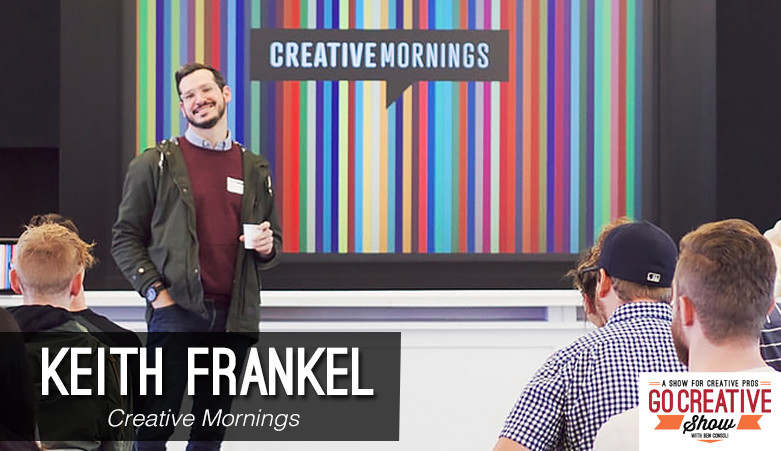 IN THIS EPISODE:
Today we talk creativity with Keith Frankel, host of the Boston chapter of Creative Mornings. Keith shares tips to enhance your creativity and talks about his experiences helping startups blossom, and his time producing MTV's hit reality show "Made".
The Go Creative Show is supported by
Kessler – www.kesslercrane.com
Rule Boston Camera – www.rule.com
PremiumBeat.com
NewsShooter.com
Shutterstock

The PremiumBeat.com Song of the Week
Listen to this weeks full track: Hit the Bass by Sergei Stern
Spotlight: Keith Frankel
Keith Frankel has enjoyed an unconventional creative journey through philosophy, reality tv, startup culture, and hosting the Boston chapter of Creative Mornings. Keith and I discuss what Creative Mornings is, and why you should get involved. We also talk about his behind-the-scenes experiences producing MTV's Emmy award-winning series "Made". The best part of Keith's interview is that everything he says is absolutely true… and we know this because he recently launched Adventures in Honesty, a first hand account of his life without lying to anyone, about anything.
Tips for being more creative

Tips for networking

Building a creative community in your area

The millennial entitlement

The ups and downs of working at MTV

The truth behind the Kanye West / Beyonce / Taylor Swift drama

The benefits of hard work

and much more!
SOME LINKS MENTIONED IN THE EPISODE:
SUBSCRIBE:
SHOW SUPPORTERS:
Kessler – Innovative Tools for Filmmaking
www.kesslercrane.com
Rule Boston Camera – Buy. Rent. Create.
www.rule.com
PremiumBeat – Premium Royalty-Free Music and Sound
www.premiumbeat.com
NewsShooter – Making the real world look as good as cinema
NewsShooter.com
Shutterstock – Premium Footage and Images
Shutterstock.com