Podcast: Play in new window | Download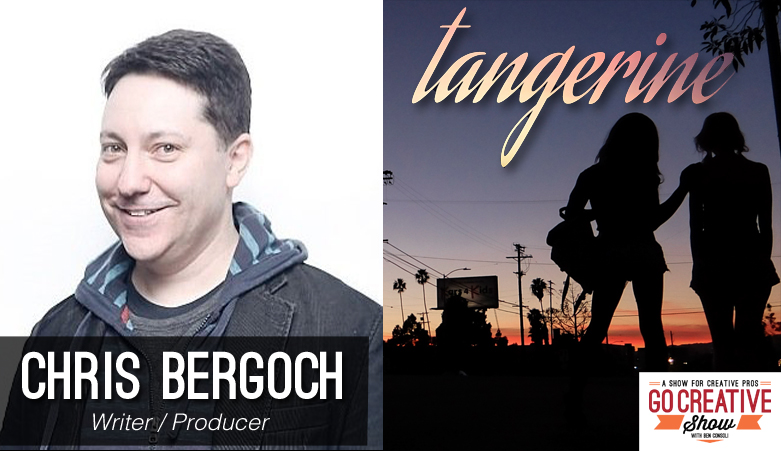 IN THIS EPISODE:
Today we speak with Chris Bergoch, co-writer and co-producer of the film Tangerine, distributed through Magnolia films and shot entirely on the iPhone.
The Go Creative Show is supported by
Kessler – www.kesslercrane.com
Rule Boston Camera – www.rule.com
PremiumBeat.com
NewsShooter.com
Shutterstock

The PremiumBeat.com Song of the Week
Listen to this weeks full track: Jolly Polly by Alexis Messier
Spotlight: Chris Bergoch
Chris Bergoch and Sean Baker have been creative partners for years, each working on films, television shows and more. Their latest collaboration, Tangerine, has enjoyed incredible success, premiering at Sundance, being distributed by Magnolia films and most important, being loved by audiences around the world. Today we invite Chris Bergoch, co-writer and co-producer of Tangerine to discuss his writing process, securing funding, working with first time actors and the bold choice to shoot Tangerine entirely on an iPhone. We discuss the challenges and benefits of shooting on iPhone and how to get maximum production quality with a minimum budget.
Making a film about transgender sex workers

Why Donut Time in LA was the best location for this film

The story of a broken heart resonates with a larger audience

How they made the decision to shoot with iPhone

Microbudget films

Lighting for iPhone

How watching your film with an audience gives you a different perspective

Why the sub-par low-light capabilities of the iPhone worked for the look

The apps and gear needed to make an iPhone a cinema quality camera

and more…
SOME LINKS MENTIONED IN THE EPISODE:
SUBSCRIBE:
SHOW SUPPORTERS:
Kessler – Innovative Tools for Filmmaking
www.kesslercrane.com
Rule Boston Camera – Buy. Rent. Create.
www.rule.com
PremiumBeat – Premium Royalty-Free Music and Sound
www.premiumbeat.com
NewsShooter – Making the real world look as good as cinema
NewsShooter.com
Shutterstock – Premium Footage and Images
Shutterstock.com
Like this episode? Share!