Podcast: Play in new window | Download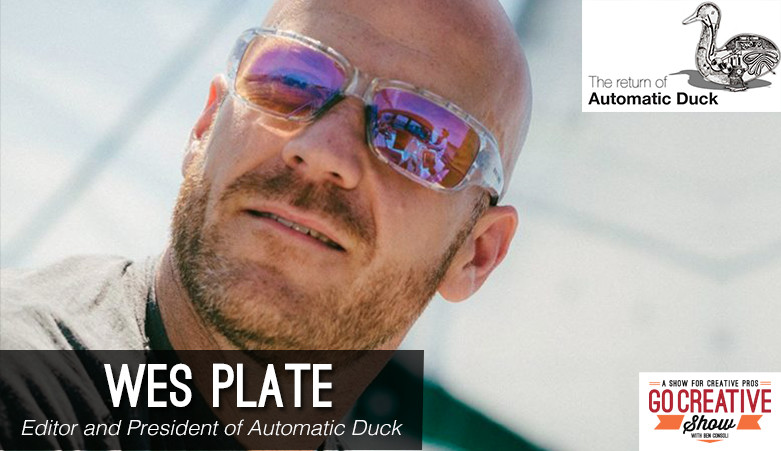 IN THIS EPISODE:
Today we discuss the changing post production industry with Wes Plate from Automatic Duck. How has the Adobe Creative Cloud changed our industry, and why has Wes focused on Final Cut Pro X with his latest software.
The Go Creative Show is supported by
Kessler – www.kesslercrane.com
Rule Boston Camera – www.rule.com
PremiumBeat.com
NewsShooter.com
Shutterstock

The PremiumBeat.com Song of the Week
Listen to this weeks full track: Burn Bright by Reaktor Productions
Spotlight: Wes Plate
Wes Plate is a freelance creative editor and the president and founder of Automatic Duck. After achieving great success with Automatic Duck, Wes began working at Adobe during their most historic time, as they prepared for the launch of what is now Creative Cloud. We discuss the behind the scenes stories from his time at Adobe and his support for Final Cut Pro X. We also celebrate the return of Automatic Duck after a 4 year hiatus and get an inside look at their latest offerings.
An inside peek at Adobe

The rise of premiere and creative cloud

Why Automatic Duck focused so much attention on FCPX

Wes Plates thoughts on FCPX

The delicate and important relationship between FCPX and Adobe After Effects

and more…
SOME LINKS MENTIONED IN THE EPISODE:
SUBSCRIBE:
SHOW SUPPORTERS:
Kessler – Innovative Tools for Filmmaking
www.kesslercrane.com
Rule Boston Camera – Buy. Rent. Create.
www.rule.com
PremiumBeat – Premium Royalty-Free Music and Sound
www.premiumbeat.com
NewsShooter – Making the real world look as good as cinema
NewsShooter.com
Shutterstock – Premium Footage and Images
Shutterstock.com
Like this episode? Share!