Podcast: Play in new window | Download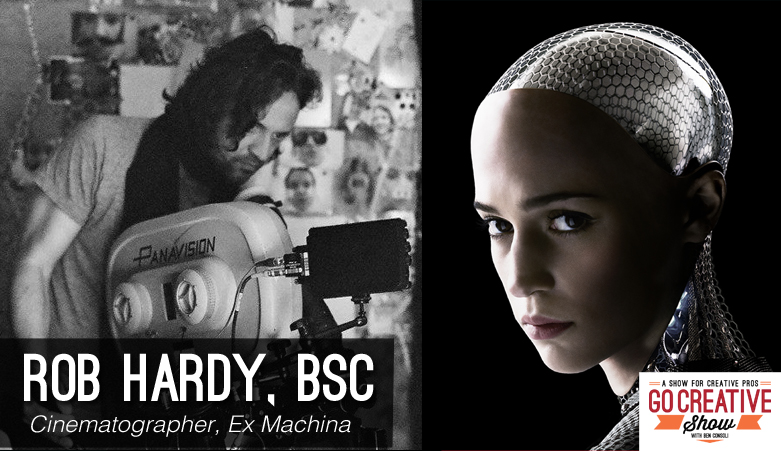 IN THIS EPISODE:
Today we speak with Rob Hardy, BSC, the brilliant cinematographer of the film Ex Machina. We discuss his lighting techniques, his decision to use the Sony F65 and all the subtle cinematic nuances that make Ex Machina one of the most human-centric science fiction films of our time.
The Go Creative Show is supported by
Kessler – www.kesslercrane.com
Rule Boston Camera – www.rule.com
PremiumBeat.com
NewsShooter.com

The PremiumBeat.com Song of the Week
Spotlight: Rob Hardy, BCS
Rob Hardy, BCS is an award winning cinematographer of countless commercials, music videos and feature films and he's here today to discuss his latest Sci-Fi masterpiece Ex Machina. We discuss his tungsten-based lighting design and the decision to shoot with the Sony F65, the delicate balance between visual effects and cinematography, using reflections to help tell a story, and all the subtle nuances that make Ex Machina a masterpiece.
Why films shouldn't work

Why not cutting is Punk Rock

Tungston may be hotter, but it's also better

How music producer Steve Albini inspired Rob's visual style

Shooting on the Sony F65 and F55

The psychology of Ex Machina

How to light and shoot a 360 degree set

and more…
SOME LINKS MENTIONED IN THE EPISODE:
SUBSCRIBE:
SHOW SUPPORTERS:
Kessler – Innovative Tools for Filmmaking
www.kesslercrane.com
Rule Boston Camera – Buy. Rent. Create.
www.rule.com
PremiumBeat – Exclusive Royalty-Free Music and Sound
www.premiumbeat.com
NewsShooter – Making the real world look as good as cinema
NewsShooter.com
Like this episode? Share!