Podcast: Play in new window | Download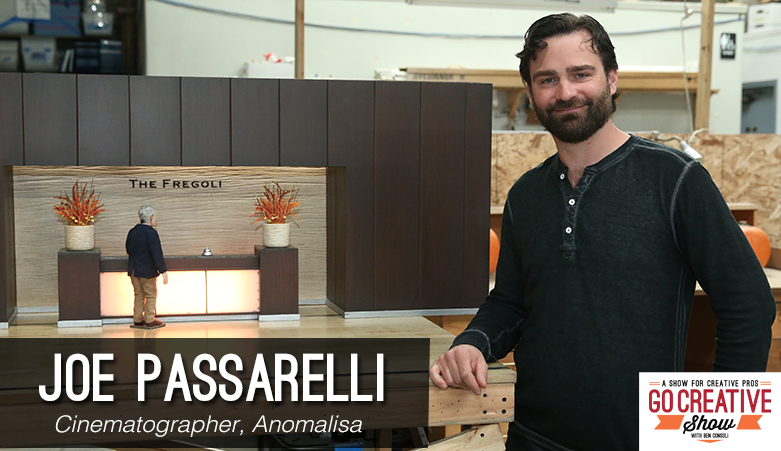 IN THIS EPISODE:
Today's guest is Joe Passarelli, the Cinematographer behind the lens of the stop motion masterpiece, Anomolisa. Joe and I discuss the challenges of shooting stop motion, lighting miniature sets, and the patience needed to pull it off.
The Go Creative Show is supported by
Kessler – www.kesslercrane.com
Rule Boston Camera – www.rule.com
PremiumBeat.com
NewsShooter.com
Shutterstock

The PremiumBeat.com Song of the Week
Listen to this weeks full track: Feel Young by Benjamin Greenspan
Spotlight: Joe Passarelli
Joe Passarelli is the Cinematographer of the stop motion masterpiece and academy award nominee Anomalisa. Joe and I discuss the challenges and rewards of shooting stop motion, his camera and lighting choices, working with miniature sets, and the patience needed to pull it all off. We also discuss the humble beginnings of Anomalisa and how kickstarter brought it to life. Esquire magazine raves about Anomalisa as "The most human movie of the year. And it doesn't star a single human." I couldn't agree more.
The humble beginnings of Anomolisa and the power of Kickstarter

The challenges and rewards of stop motion animation

Using home made Gemballs to light miniature sets

The miniature practical lighting and how it transformed the set

Eye lights for puppets and the reflective nature of fabrics

Working on 18 sets at the same time

What is replacement animation and how is it different from traditional

Why he chose to shoot on Canon 7D and Nikon lenses

Behind the scenes stories of the most challenging scenes

Creating motion blur in stop motion

Why the now infamous sex scene took over 6 months to animate

Using animatics to keep order the structure

Shooting 24-48 frames a day at most

and much more!
SOME LINKS MENTIONED IN THE EPISODE:
SUBSCRIBE:
SHOW SUPPORTERS:
Kessler – Innovative Tools for Filmmaking
www.kesslercrane.com
Rule Boston Camera – Buy. Rent. Create.
www.rule.com
PremiumBeat – Premium Royalty-Free Music and Sound
www.premiumbeat.com
NewsShooter – Making the real world look as good as cinema
NewsShooter.com
Shutterstock – Premium Footage and Images
Shutterstock.com
Like this episode? Share!