Podcast: Play in new window | Download
Subscribe: iTunes | Android | RSS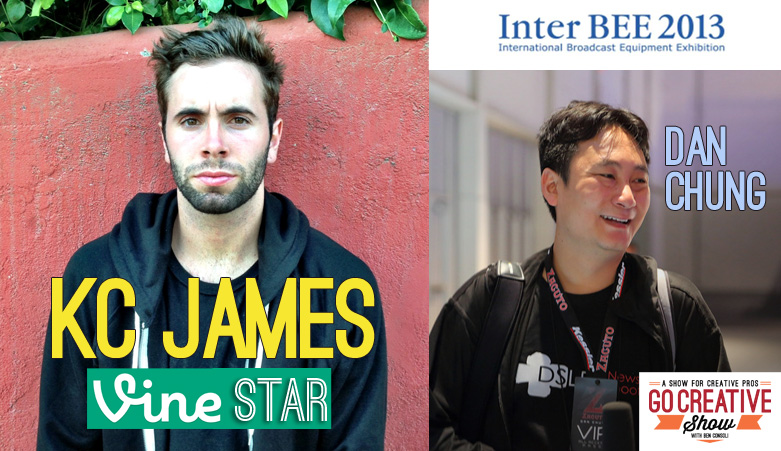 IN THIS EPISODE:
Today we speak with Vine Megastar, KC James who in less than 1 year has transformed his career and built an audience of over 2.5 million followers. Plus Dan Chung from NewsShooter.com shares all the hot news from InterBee 2013. Cameras, Lenses and the future of 8K!!
The Go Creative Show is supported by Kessler (www.kesslercrane.com), Rule Boston Camera (www.rule.com), PremiumBeat.com.
and NewsShooter (NewsShooter.com)
Weekly Update
The PremiumBeat.com Song of the Week
Listen to this week's full track here: Take My Hand by Max Brodie
Spotlight: KC James
KC James is an actor & comedian who has jumpstarted his career on Vine, the micro-video sharing app that displays 6 second looping videos. KC has becoming one of the top 10 most popular viners growing over 2.8 million followers in just a few months. His vines are slices of comedic brilliance and have captured the attention of millions of fans, but they also have connected him to large corporations like Square, Nine Lives, Virgin Mobile and more. We discuss the challenges of shooting with an iPhone, how to be creative in 6 seconds and how you can use vine to build your personal brand.
2.8 million followers in less than 1 year

The challenges of shooting with iPhone

The raw talent behind KC's brilliant Vines

The Vine community and creative collaboration

Making a living with Vine

Branded vines are mini commercials

How to use Vine to build your own personal brand

The future of Vine and advertising

And much more.
SOME LINKS MENTIONED IN THE EPISODE:
SUBSCRIBE:
SHOW SUPPORTERS:
Kessler – Innovative Tools for Filmmaking
www.kesslercrane.com
Rule Boston Camera – Buy. Rent. Create.
www.rule.com
PremiumBeat – Exclusive Royalty-Free Music and Sound
www.premiumbeat.com
NewsShooter – Making the real world look as good as cinema
NewsShooter.com
One Of The Guys from Ben Consoli BC Media Productions on Vimeo.
The following two tabs change content below.
A multi-talented producer and visual storyteller, Ben Consoli's credits range from director of photography, editor, director, and video producer to songwriter, composer, and former lead singer of the rock band "Violet Nine." As owner of BC Media Productions, Ben has produced award-winning commercials and brand videos for companies like Nike, Puma, Verizon, Gillette and Pillsbury. Learn more about
BC Media Productions
Latest posts by Ben Consoli (see all)