Podcast: Play in new window | Download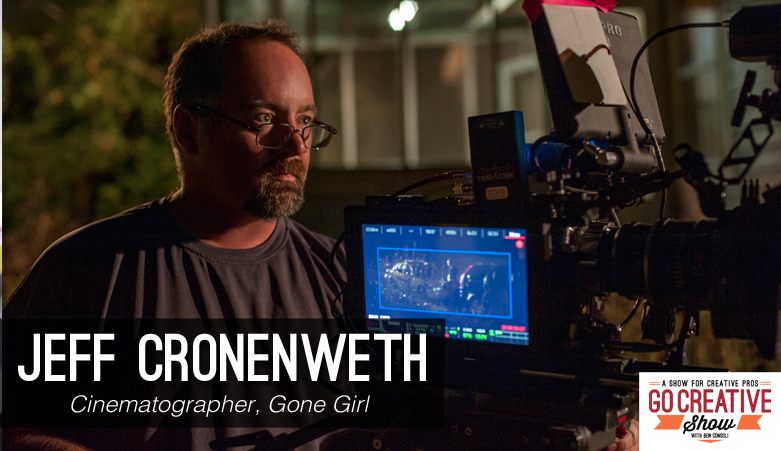 IN THIS EPISODE:
Today we speak with Jeff Cronenweth, the brilliant cinematographer for some of the most iconic films in cinema's history including Fight Club, The Girl with the Dragon Tattoo, Social Network and the recent hit Gone Girl. Jeff and I discuss his entire career including his stunning portfolio of music videos and commercials, the pro's and con's of digital film-making and working with director David Fincher.
The Go Creative Show is supported by
Kessler – www.kesslercrane.com
Rule Boston Camera – www.rule.com
PremiumBeat.com
NewsShooter.com
Lynda.com
Weekly Update
Ben announces upcoming guests

Ben's new FCPX tutorials available now at Premiumbeat.com/blog
Check out videos from past Rule Boston Camera events at Rule.com
The PremiumBeat.com Song of the Week
Listen to this weeks full track: Soaring by Reaktor Productions
Ben's Lynda.com Podcast Playlist
Spotlight:
Jeff Cronenweth is truly one of our most brilliant cinematographers creating films like Fight Club, Girl with the Dragon tattoo, The Social Network and Gone Girl. These collaborations with David Fincher have dazzled audiences around the world, received countless awards and changed cinema forever . Jeff's un-dying thirst for cinematic innovation has made him an advocate for digital film making and inspired his masterful commercial and music video work. And he speaks all about it today on Go Creative Show.
Behind the scenes stories from Fight Club, Girl with the Dragon Tattoo and The Social Network

How Jeff created the look of Gone Girl

Lighting faces to be evil and beautiful at the same time.

Working with Madonna, Michael Jackson, Nine Inch Nails, Taylor Swift and more

Working with genius music video director Mark Romanek

Jeff's brilliant collaborations with David Fincher

Go Creative Show listener questions

How Jeff is inspired by his father Jordan Cronenweth

How Jeff's commercial work inspires his film work

and more…
SOME LINKS MENTIONED IN THE EPISODE:
SUBSCRIBE:
SHOW SUPPORTERS:
Lynda.com – You Can Learn It!
www.lynda.com
Kessler – Innovative Tools for Filmmaking
www.kesslercrane.com
Rule Boston Camera – Buy. Rent. Create.
www.rule.com
PremiumBeat – Exclusive Royalty-Free Music and Sound
www.premiumbeat.com
NewsShooter – Making the real world look as good as cinema
NewsShooter.com
Like this episode? Share!