Podcast: Play in new window | Download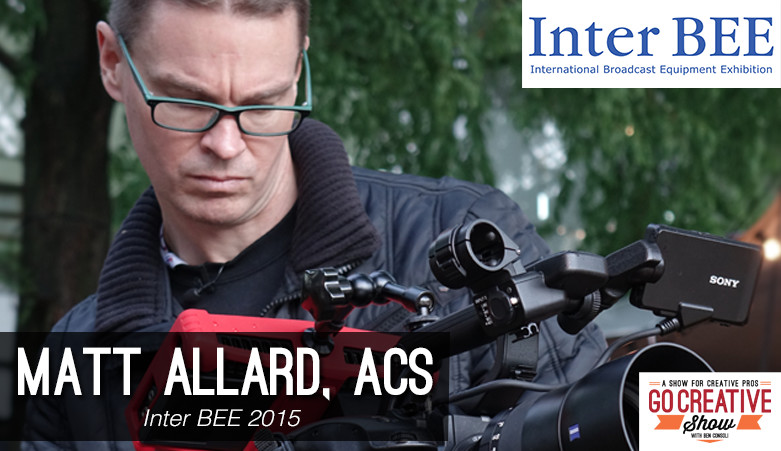 IN THIS EPISODE:
Today we cover all the news and announcements from Inter BEE 2015 with Matt Allard from NewsShooter.com Interbee is known for announcing some of the most innovative products for filmmaking and we discuss them all.
The Go Creative Show is supported by
Kessler – www.kesslercrane.com
Rule Boston Camera – www.rule.com
PremiumBeat.com
NewsShooter.com
Shutterstock

The PremiumBeat.com Song of the Week
Spotlight: Inter BEE 2015 / Matt Allard
Our good friend Matt Allard ACS from NewsShooter.com is back on the show to talk about all the news and announcements from Inter BEE 2015. We discuss the E-Mount movement, Technical Farm Flare Adapters, 1920×1080 viewfinders, new audio solutions from Shure and Azden, Aladdin's new LED eye light, the FS5 recording controversy and so much more.
SOME LINKS MENTIONED IN THE EPISODE:
SUBSCRIBE:
SHOW SUPPORTERS:
Kessler – Innovative Tools for Filmmaking
www.kesslercrane.com
Rule Boston Camera – Buy. Rent. Create.
www.rule.com
PremiumBeat – Premium Royalty-Free Music and Sound
www.premiumbeat.com
NewsShooter – Making the real world look as good as cinema
NewsShooter.com
Shutterstock – Premium Footage and Images
Shutterstock.com
Like this episode? Share!