Podcast: Play in new window | Download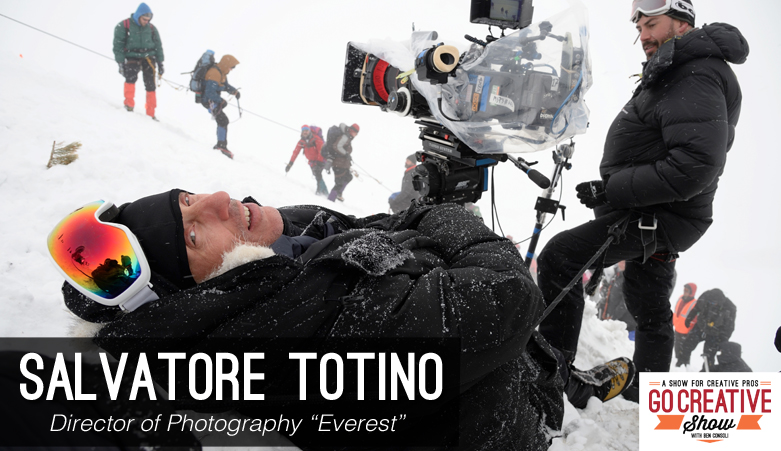 IN THIS EPISODE:
Today we explore the daring and immersive cinematography of "Everest" with Director of Photography Salvatore Totino. We discuss the challenges of shooting at 10,000 feet in 22 below zero temperatures, and how his previous films prepared him for this epic adventure.
The Go Creative Show is supported by
Kessler – www.kesslercrane.com
Rule Boston Camera – www.rule.com
PremiumBeat.com
NewsShooter.com
Shutterstock

The PremiumBeat.com Song of the Week
Spotlight: Salvatore Totino
Salvatore Totino has directed the photography of many iconic films like Any Given Sunday, Cinderella Man, and Frost/Nixon but it's his latest film Everest that has challenged him the most. Shooting at altitudes of over 10,000 feet and in temperatures surpassing 22 below zero, "Everest" is truly one of the most daring and immersive films of our time. Salvatore shares his techniques for shooting in these environments on the Arri Alexa XT, recreating the summit of Everest, filmmaking in the freezing cold, and much more.
How Salvatore technically, physically, and mentally prepared for "Everest"

The challenges of shooting at 22 below zero.

Shooting on Arri Alexa XT and how it held up in extreme conditions

Using Flowbank lights and Soft Suns

Why Drake's James Turrell inspired music video for "Hotline Bling" is Salvatore's favorite new video

What can we expect from Salvatore's forthcoming film "Concussion" starring Will Smith. How is it inspired by "The Insider"

2D vs 3D, which does Salvatore prefer and why?

How shooting music videos can often be more creative and freeing than films and commercials

How Salvatores first film "any given sunday" prepared him for Everest
working with director Oliver Stone

and more…
SOME LINKS MENTIONED IN THE EPISODE:
SUBSCRIBE:
SHOW SUPPORTERS:
Kessler – Innovative Tools for Filmmaking
www.kesslercrane.com
Rule Boston Camera – Buy. Rent. Create.
www.rule.com
PremiumBeat – Premium Royalty-Free Music and Sound
www.premiumbeat.com
NewsShooter – Making the real world look as good as cinema
NewsShooter.com
Shutterstock – Premium Footage and Images
Shutterstock.com
Like this episode? Share!