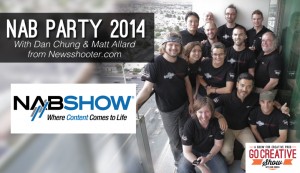 Podcast: Play in new window | Download
IN THIS EPISODE:
Today we cover all the news and releases from NAB 2014 with Dan Chung and Matt Allard from NewsShooter.com Everything you need to know about the Blackmagic Ursa, AJA Cion, Atomos, Sony, g imbals, lighting, recorders and more. Gear heads and camera geeks can rejoice because we cover it all.
The Go Creative Show is supported by
Kessler – www.kesslercrane.com
Rule Boston Camera – www.rule.com
PremiumBeat.com
NewsShooter.com
Weekly Update
The PremiumBeat.com Song of the Week
Spotlight: NAB 2014, Dan Chung and Matt Allard
NAB has arguably become the worlds #1 show for all things related to film and video production. With nearly 100,000 attendees from over 150 countries, NAB is a melting pot for innovation, creative ideas, and inspiration as well as a wonderful opportunity for all of us to collaborate and network with our peers. Each year NewsShooter.com brings you the absolute best coverage of all the news, announcements and releases and today we welcome Dan Chung and Matt Allard to share their opinions on the show. We cover releases from Blackmagic, Atamos, Letus, Digital Bolex, AJA, Kinifinity, Sony and much much more.
SOME LINKS MENTIONED IN THE EPISODE:
SUBSCRIBE:
SHOW SUPPORTERS:
Kessler - Innovative Tools for Filmmaking
www.kesslercrane.com
Rule Boston Camera - Buy. Rent. Create.
www.rule.com
PremiumBeat - Exclusive Royalty-Free Music and Sound
www.premiumbeat.com
NewsShooter - Making the real world look as good as cinema
NewsShooter.com