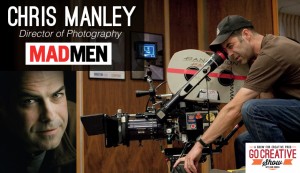 Podcast: Play in new window | Download
Today we speak with Chris Manley, ACS Director of Photography for the hit AMC drama, Mad Men. Chris talks about extensive tv and film career, behind the scenes stories from Mad Men and his upcoming feature film You Are Here starring Zach Galifianakis, Amy Poehler and Owen Wilson
The Go Creative Show is supported by Kessler (www.kesslercrane.com), Rule Boston Camera (www.rule.com), PremiumBeat.com.
and NewsShooter (NewsShooter.com)
Weekly Update
Ben's trip to Scotland

Rule Boston Camera Events at Rule.com
The PremiumBeat.com Song of the Week
Spotlight: Christopher Manley, ASC
Christopher Manley ASC is an Emmy award nominated cinematographer and director of photography for the wildly successful AMC television series Mad Men. Chris is also the visual genius behind many of televisions biggest shows, shooting for Homeland, Revenge, Prison Break and more. Chris shares behind the scenes stories from Mad Men, his directing experiences plus shooting Matthew Weiner's upcoming feature film You Are Here starring Zach Galifianakis, Amy Poehler and Owen Wilson.
Collaboration on the Mad Men set

What can we expect from Season 7

Working with Matthew Weiner

Directing episodes of Mad Men

Shooting major TV pilots

Lighting and shooting for a 60′s period piece

Moving from film to Alexa

The history behind Mad Men

How to properly use overhead fluorescent lights

And much more.
SOME LINKS MENTIONED IN THE EPISODE:
SUBSCRIBE:
SHOW SUPPORTERS:
Kessler - Innovative Tools for Filmmaking
www.kesslercrane.com
Rule Boston Camera - Buy. Rent. Create.
www.rule.com
PremiumBeat - Exclusive Royalty-Free Music and Sound
www.premiumbeat.com
NewsShooter - Making the real world look as good as cinema
NewsShooter.com